To the Teacher:
On September 16, Terence Crutcher was shot and killed by police in Tulsa, OK.  A mere four days later police in Charlotte, NC, shot and killed Keith Lamont Scott. 
Crutcher and Scott are the latest in a long series of fatal police shootings of mostly unarmed men of color that have come to light through video and social media, often generated by bystanders and family members.
In the wake of the week's shooting deaths, protests once again erupted around the country, with people flooding into the streets, demanding justice and an end to police brutality.  On September 21, U.S. Attorney General Loretta Lynch called for calm in both cities and across the nation. Lynch said the Justice Department opened a civil rights probe into the Crutcher's death and was assessing Scott's death in Charlotte several days later. "These tragic incidents have once again left Americans with feelings of sorrow, anger and uncertainty," Lynch said. "They have once again highlighted - in the most vivid and painful terms - the real divisions that still persist in this nation between law enforcement and communities of color." 
Educators across the country are doing the hard work of helping young people learn about and reflect on the killings, the protests, and the broader problem of racial injustice and what we can do about it. We have tried to help teachers in this difficult and important task through lessons and guidelines on TeachableMoment. Please see in particular these guidelines on teaching about difficult or controversial issues, and our recent lessons on the Black Lives Matter movement.
In the lesson that follows, we'll be looking at the spreading protests against police violence by high-profile athletes. The lesson looks at what the protest started by NFL 49ers quarterback Colin Kaepernick has brought about in recent weeks and invites students to explore it in detail, then discuss and assess it. 
It is important to realize that Kaepernick's was not the first such protest by a professional athlete. NBA and WNBA players have protested police brutality and injustice since 2014, wearing different shirts during warmup games with texts like "I can't breathe"—the last words of the unarmed Eric Garner before he was choked to death by police in Staten Island, NY, in July 2014. Various athletes have expressed their concern to the media as well. Different football players have made the "hands up don't shoot" gesture before their games in reference to Mike Brown, the young man who was shot and killed by police in Ferguson, MO, in August 2014. Some have had hand-written messages on shirts and shoes worn during warmup and actual games. 
During the summer of 2016, entire women's basketball teams and their owners came out in support of the Black Lives Matter movement. On July 9, MN Lynx players showed up in warmup shirts printed with "Black Lives Matter," "Change Starts with Us," "Justice and Accountability," an image of the Dallas police shield, and the names of Alton Sterling and Philando Castile, the most recent Black victims of fatal police shootings at that time. Some teams have worn solid black warmup shirts to protest shootings by and against police officers. WNBA teams have been fined for their protests, as have the individual players. WNBA President Lisa Border explained, "We are proud of WNBA players' engagement and passionate advocacy for non-violent solutions to difficult social issues but expect them to comply with the league's uniform guidelines." 
With Colin Kaepernick joining the protests, momentum is growing. This is the focus of the lesson that follows. In the activity, students discuss tweets about the protests, consider multiple points of view about them, and also construct a timeline of events. To prepare for these activities, print out the following in advance.
Tweets about Kaepernick's protest: print out several copies (enough for all students to view)
Timeline handout: print out one copy and cut it into pieces as marked. (The handout also includes a reference timeline that puts the events in correct sequence.)
For additional material on this subject, see this piece in ThinkProgress on "The Kaepernick Effect So Far." 
---
Gathering

Project the following tweet on the board or provide students with a copy of this pdf, which includes the image.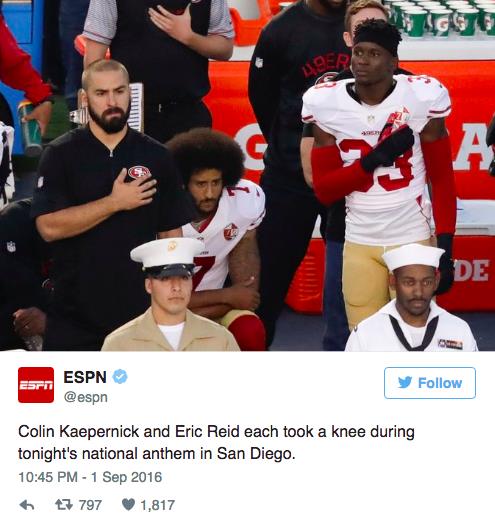 Ask students: 
Does anyone know what this tweet is in reference to?
Has anyone heard of the name Colin Kaepernick (aka Kaep)? Who is he?
Does anyone know why he's been in the news recently?
Elicit and explain that Kaepernick is a football player with the San Francisco 49ers who has been taking a knee (that is, kneeling down on one knee), during the playing of the national anthem at games. He has been joined by teammate Eric Reid.  Ask if anyone knows why. 
---
Colin Kaepernick takes a knee
Show this video from the NFL website or read the information that follows.
At a game on August 26, 2016, 49ers quarterback Colin Kaepernick refused to stand for the playing of the national anthem to protest police killings of unarmed African Americans.
"I am not going to stand up to show pride in a flag for a country that oppresses Black people and people of color," Kaepernick told NFL Media in an interview. "To me, this is bigger than football and it would be selfish on my part to look the other way. There are bodies in the street and people getting paid leave and getting away with murder."
Kaepernick said that he is aware of what he is doing and that he knows that many people, including 49ers, may not approve. "I am not looking for approval," he said. I have to stand up for people that are oppressed. ... If they take football away, my endorsements from me, I know that I stood up for what is right."
According to NFL News, "Kaepernick said that he has discussed his feelings with his family and, after months of witnessing some of the civil unrest in the U.S., decided to be more active and involved in rights for Black people. Kaepernick, who is biracial, was adopted and raised by white parents and siblings."
During pre-season games, Kaepernick had stayed seated as a form of protest. He later decided to change his protest. Instead of staying seated, he kneeled down on one knee during the playing of the national anthem.
The 49ers issued the following statement about Kaepernick's protest: "The national anthem is and always will be a special part of the pre-game ceremony. It is an opportunity to honor our country and reflect on the great liberties we are afforded as its citizens. In respecting such American principles as freedom of religion and freedom of expression, we recognize the right of an individual to choose and participate, or not, in our celebration of the national anthem."
Discuss some or all of the following questions:
What are your thoughts and feelings about what Kaepernick is trying to do?
What do you think about Kaepernick's approach of taking a knee during the national anthem?
Why do you think Kaepernick went from sitting to taking a knee?  How might taking a knee appear different to critics and/or supporters than simply sitting on the bench during the playing of the national anthem? 
Is he effective in what he's trying to do?  Why or why not?
What do you think about the official response from the 49ers?
Why do you think the clip calls Kaepernick "taking a stand" in this way controversial?  What might be controversial about it? 
What are the different perspectives portrayed here? 
---
Tweets about the protest
Give students this pdf of tweets about the Kaepernick protest. Consider each tweet in turn:
What does this tweet mean?
Do you agree with the view being expressed? Why or why not?
Why do you think some veterans are speaking out in support of Kaepernick's action?
Why do some people object to the protests?
---
Protests spread
During the opening weekend of the football season, before the game on the 15th anniversary of 9/11, many other football players decided to join Kaepernick in his protest. Does anyone know what happened?
Read the following quote from KansasCity.com:
"As police, firefighters and EMTs unfurled the enormous U.S. flag across the width and length of the field at Arrowhead Stadium [in Kansas City] on Sunday to commemorate the 15th anniversary of the Sept. 11 attacks, the Chiefs stepped toward it and linked arms.  The approach was both one of deference to the moment and a nod to a movement - vastly different stances that it turns out can go together. ... Black and white stood tethered as one .... Cornerback Marcus Peters [was] standing at the end of the line, his left arm hooked in alignment with his team ... and his right fist hoisted in the air..." (KansasCity.com)
Ask:  What do you think the linked arms symbolized?  What about the raised fist?
Share that Peters' raised fist recalled the raised fist demonstration by Black athletes Tommie Smith and John Carlos during their medal ceremony at the 1968 Olympic Games in Mexico City.  That protest was full of symbolism: Smith and Carlos went shoeless to represent the poverty facing people of color in the U.S., and both raised their fists in a "Power to the People" salute. Carlos said his intent was to express solidarity with "all oppressed people on the earth.... the message is that we need to come together to rise up." The two athletes, and their white ally, Peter Norman, also wore the Olympic Project for Human Rights badge, a movement of athletes supporting equality for all.  (See the TeachableMoment lesson about this protest.)
Other athletes have joined Kaepernick in making symbolic protests against racial injustice and police killings, both in the NFL and beyond, professional and amateur, male and female, Black and white, adults and kids.  People of all kinds of backgrounds have also continued to push back on the protest in different ways.
Discussion
In an article in The Hill entitled "The Kaepernick effect further divides our country," John Kushma criticizes Kaepernick's actions.  He writes:
Just as the San Francisco 49er uniform and logo are symbolic of the imagery and history of a great NFL team, so are the American flag, the national anthem, the Statue of Liberty, and the Liberty Bell. They're all symbolic of the culture and great country we all also share, and they should not be disrespected or defaced in a public protest, especially, by a fellow American, and especially by a celebrity with a powerful voice and image such as Kaepernick....It just seems wrong. There are other ways to aim a protest that actually accomplish something toward solving the problem, not intensifying it....
Colin Kaepernick and his fellow NFL brothers may be calling attention to the problem of racial injustice in America, but we are already aware of the problem. Abraham Lincoln called attention to it, Dr. Martin Luther King called attention to it, Tommie Smith and John Carlos called attention to it at the 1968 Summer Olympics in Mexico City. The media calls attention to it every day 24 hours a day.
What we need is for the problem to be resolved. None of them, even Colin Kaepernick, can seem to get the job done.
Discuss with students:
Do you agree with Kushma that American symbols and rituals like the national anthem "should not be disrespected or defaced in a public protest"?  Why or why not?
Do you agree with Kushma that Kaepernick's protest disrespects and defaces American symbols and rituals like the national anthem?  Why or why not?
Do you agree with Kushma that Americans are "already aware of the problem" of racial injustice or that the media covers this issue "24 hours a day"?
Kushma argues that athletes could find more effective ways to address racial injustice. What does Kushma consider ineffective about the way Kaepernick is addressing it? What effective ways might Kushma be referring to?
Kushma argues that the problem of racial injustice neeeds to resolved and that Kaepernick hasn't been able to "get the job done." What are your thoughts about this statement?
Reporter Josh Levin from Slate expresses another point of view: 
An NFL player who happens to be Black and happens to play quarterback happened to sit during a patriotic pre-game ritual to protest the country's racial inequities. Kaepernick's gesture worked because it was divisive—because his supporters celebrated him for giving voice to the voiceless, and because his detractors amplified that voice by trying to shout it down with ... [personal insults and] attacks.
His protest, striking at the heart of America's most cherished ... [symbols] from the stage of its favorite sport, was precision engineered to accomplish exactly what it's accomplished, and the response has only proved its necessity.
Discuss with students:
Levin argues that Kaepernick's action was effective in part because it was divisive.  Do you agree? Are there times in history when being divisive has been effective?   Explain.
What has Kaepernick's protest accomplished so far? Are those accomplishments important? Why or why not?
Levin calls the protest "precision engineered."  What do you think that means?
Has the "precision engineering" continued beyond Kaepernick and his protest?  If so, how?  
Do you think Kaepernick would have been more effective at addressing racial injustice if he had not protested in this way, but had only donated money or made statements on social media (actions that Kaepernick has also taken)? Why or why not?
The actions of Tommie Smith, John Carlos, and Peter Norman at the 1968 Olympics are still remembered and often honored today, nearly half a century later. Do you think that the actions of Colin Kaepernick and his fellow athletes might be be remembered as a turning point 50 years from now?  Why or why not?

 
---

What Kaep Set in Motion Timeline
Explain that in this next activity students will have a chance to explore both the protests and the push back in more detail.
Print out this handout, and cut each item in the first timeline into slips. (The second timeline can be used as a reference.) Put the different slips of paper in an envelope or fold each in half. Give each student a slip. (There are 22 slips of paper.  If you have more students in your group, consider having students work in teams. If you have less students in your group, have students take more than one slip of paper, or consider leaving some of less essential slips out.)
Explain that each slip of paper contains information about what happened between the end of August, when Colin Kaepernick first started his protest, till the second half of September, when the announcement was made that Kaepernick would be featured on the cover of Time Magazine.
Invite students to read what's on their slip of paper. Then, based on what they learned today, what they already knew - and using common sense - ask students to organize the slips of paper chronologically. If possible, invite students to organize themselves physically in chronological order based on what's written on their slip of paper, so as to create a physical timeline. 
It may help students to know that football games are played and broadcast on Sunday, Monday and Thursday nights. The 2016 season's opening game was played on Thursday, September 8. The first NFL Sunday games were played on September 11.
When students are done organizing themselves (or their slips), ask them to read out what's on their slips of paper in order. Have students listen carefully, to see if they might want to make additional changes to their timeline.
You can check students' timeline against the actual timeline that is provided in the pdf. It includes additional related incidents (in italics) that you may want to share with students.  
When students have read the events following Colin Kaepernick's protest out loud, ask students to discuss some or all of the following questions:
The activity structure:
What are your thoughts and feelings about this activity? 
How did you figure out how to organize yourselves/the information?
What did you need to do to be successful in this activity?
The activity content:
What was it like to listen to these events in order in this way?
Was there anything that stood out to you about this timeline activity?
What are your thoughts and feelings about what Kaepernick has been trying to do now? 
Some people say Colin Kaepernick should stick to playing football. Do you agree?  Why or why not?
---
Closing
If students are still in the chronological order of the timeline activity, consider asking the first student in the order to start the  stamping their feet slowly and rhythmically.  (Or, if students are not arranged in the timeline, ask them to form a line and ask the first student in the line to begin stamping their feet.) 
Then ask the second student in the order to start stamping their feet, then the third, and the fourth, as students build on each other, gathering in volume and power.
Ask students how this relates to what Kaepernick has started. How is it similar?  How is it different? 
Alternatively: Close the lesson by asking students to share one thing they learned in the activities today.