To the Teacher
 
On July 17, 2020, the world lost civil rights leaders John Lewis and C.T. Vivian within hours of each other. In honor of their lives and their legacies, we dedicate this circle to them, and to all current and future leaders inspired by and continuing their work. 
John Lewis exemplified resistance and love, compassion and faith. He was one of our greatest examples of what it means to be committed to the fight for justice.
This lesson for middle and high schoolers engages students in a gathering to deepen their knowledge of the civil rights icon, and to listen to and share their thoughts and reflections. Students will engage with Lewis' legacy by analyzing selected resources about John Lewis and his life's work. In discussing his work, students will also reflect on their own values and missions, while considering the path he has laid for us all to continue in the fight for liberation and freedom.
Note: Determine in advance which of the resources below you will use, or how many lessons you will devote to exploring multiple resources. Several of the resources are short enough that two activities will likely fit within one lesson.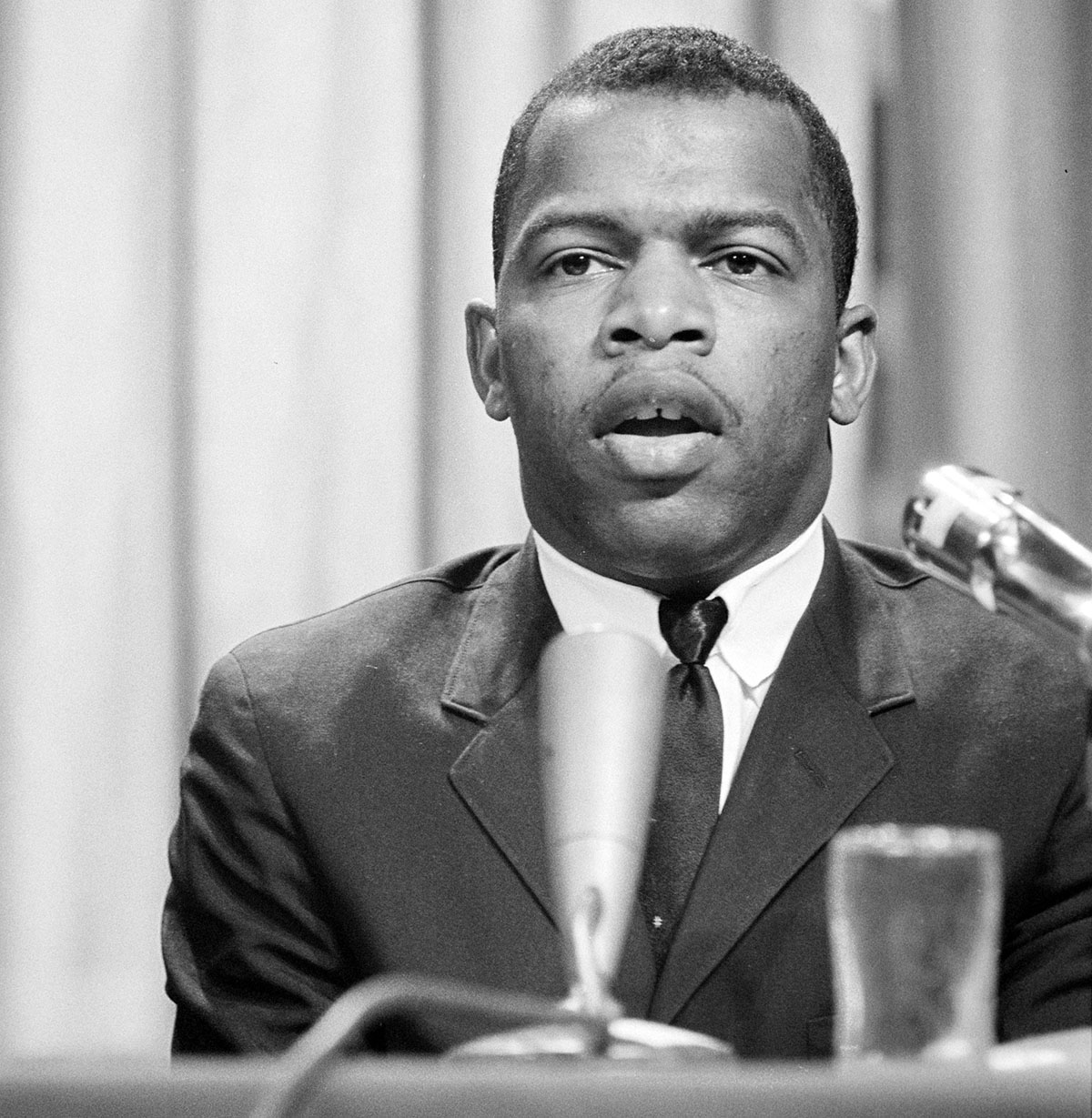 ---
Opening
Have students share a thought in response to the John Lewis quote:
"We may not have chosen the time, but the time has chosen us."

Invite one to two students to share something they know about John Lewis. They will have a chance to learn more about him through the following activities.
---


Exploring John Lewis' life and legacy 

Invite students to read, watch, or listen to one or more of the following.
1.  Read John Lewis' final words to us all or listen to this reading of it by Morgan Freeman.
What is the impact of the intro sentence? The first two sentences? 
What is the significance of John Lewis writing to us before passing on?
2. Watch Teaching Tolerance's interview with John Lewis.
What stood out to you from this interview?
 
Speak to a time when you felt similarly to what John Lewis described – when someone thought they had "beat" you, but you knew that you were the true victor.
3.  Compare the two versions of John Lewis' March on Washington speech.
Which version of the speech speaks to you more? Why?
 
What do you see as the major difference(s) between the two? 
 
Why do you think Lewis' advisors found it necessary to request alterations to the speech? 
 
What does this bring to mind when you think about the concepts of censorship, comfortability, brave conversations, self expression, objectivity vs. subjectivity? 

4.  View a John Lewis photo gallery.
Which image(s) speak to you most? Why?
5.  Read President Obama's statement on John Lewis.
What does it mean to see the best in others, and the best in yourself? Is that difficult or easy to do?
 
What are your thoughts on the "marching orders" that President Obama spoke of at the end of the piece?
 
---

Closing

Ask students to respond to the following John Lewis quote:

"Get in good trouble, necessary trouble, and help redeem the soul of America."

Encourage them to keep fighting for what they believe in, reminding them of their power and their right to be heard and respected. 
---

Extension Activities
 
After your exploration, invite students to consider these questions, in discussion or in writing:

- What qualities or characteristics allowed John Lewis to commit himself to the fight for justice in the way he did? 
- What are you willing to fight for?
- Should we all have a cause that we are willing to fight for?
 
Have students watch the film Good Trouble and discuss as you watch it or after you watch it. 
 
Read and discuss with students the series March (books one, two and three), three young adult graphic novels, co-written by Lewis, that provide "a vivid first-hand account of John Lewis' lifelong struggle for civil and human rights." 
Additional Articles
 
Invite students to read and discuss one or more of the following.