Introduction and Background
 
When Raphael Warnock won his U.S. Senate race on January 6, 2020, he became the first African American elected to represent Georgia in the United States Senate.
Since the passage of the 15th Amendment giving all African American men the right to vote and hold office, only 10 African Americans (eight men and two women) have been elected to the U.S. Senate. Had it not been for decade upon decade of continued voter suppression and white supremacist oppression, it's likely those numbers would have been far different.  
America has a long history of voter suppression— specifically, suppressing the votes of African American men and women. Voter suppression began during Reconstruction – the time period in the United States just after the official end of slavery and up until 1877. Section 1 of the 15th Amendment (one of three "Reconstruction Amendments") ratified on February 3, 1870 states: "The right of citizens of the United States to vote shall not be denied or abridged by the United States, or by any State, on account of race, color, or previous condition of servitude."
The 19th Amendment granted women the right to vote in 1920. But because of ruthless voter suppression tactics, it wasn't until the Voting Rights Act of 1965 that African American women were able to exercise their right to vote.
Since Reconstruction, white Americans and white terrorist groups have threatened and killed African American men and women who attempted to vote or register Black voters for local, state, and national elections. Tunis Campbell, a Black state senator from Georgia who, in 1868, petitioned President Ulysses S. Grant to propose a constitutional amendment guaranteeing voting rights for all, worked tirelessly to register Georgia voters (Black and white ). Because of his work on behalf of disenfranchised Americans, he along with a co-worker, was poisoned. Campbell survived. His co-worker died.
For years, even though African Americans had a legal right to vote, white government officials passed laws that made it difficult or impossible for them to vote. During the 1950s and 60s, Africans Americans were fired from their jobs and kicked off the farms where they both lived and worked by their bosses the second it was discovered they'd registered to vote.
Today, decades later, the voter suppression continues. In October 2019, Georgia Secretary of State Brad Raffensperger published a list of 313,243 citizens purged from the state's voter rolls on grounds that they had moved from their registration address. In September 2020, an American Civil Liberties Union report concluded that 198,351 of those purged had indeed not moved and were therefore wrongly removed. Most of those removed were young voters and people of color, the ACLU concluded. 
In this lesson, you'll ask students to ponder the question:
Why do African Americans continue to fight for their right to vote when throughout history that very fight has, at times, cost them their lives?   
---

Who Are These People?
 
Ask students: 
"Do you recognize any of these people?"
Next ask:
"What's one significant thing (other than their race) these people have in common?"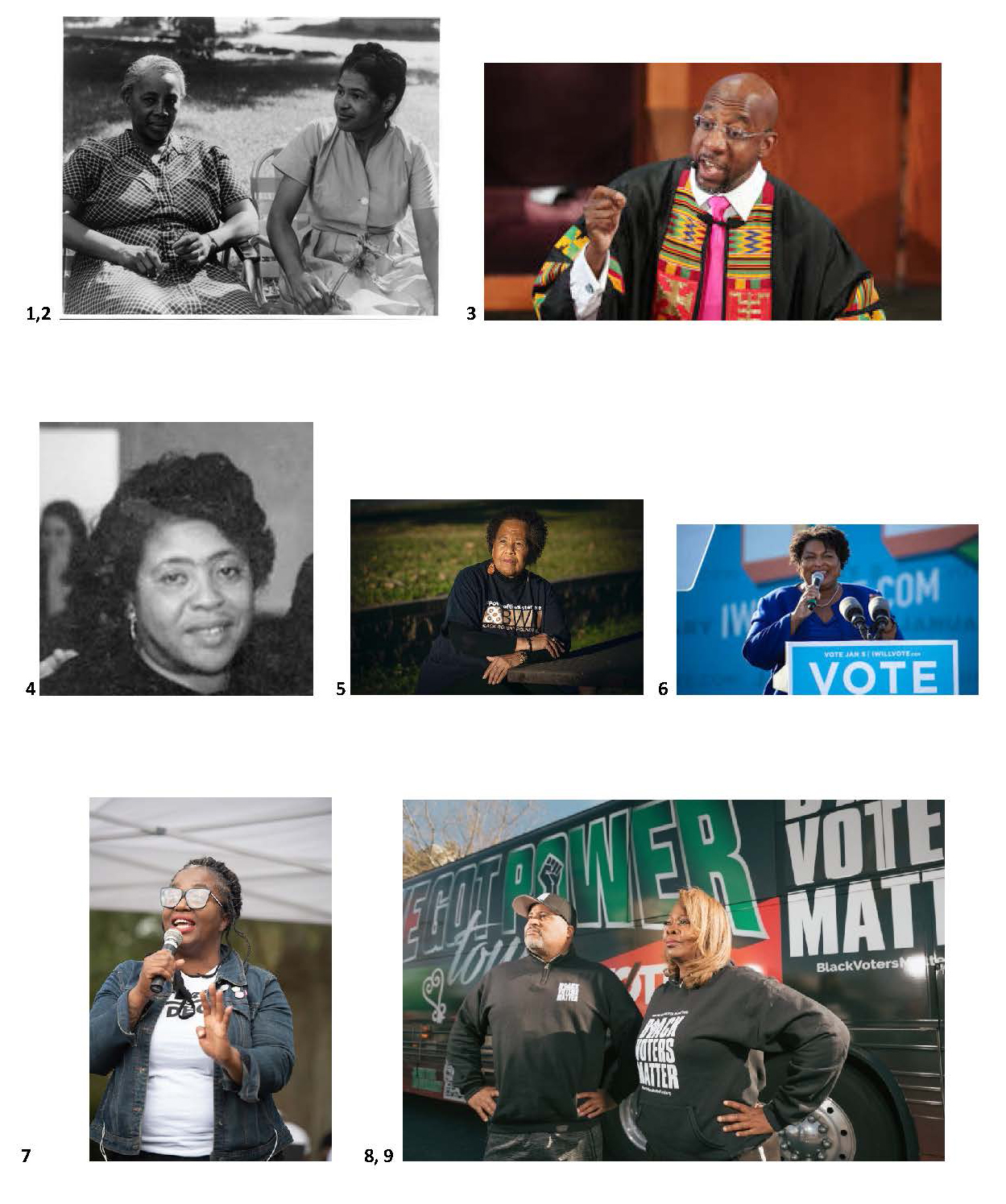 Answer: All pictured worked tirelessly to secure voting rights for African Americans.
Septima Clark and a young Rosa Parks are pictured together. Clark mentored Parks and established the Citizenship Schools which took root throughout the south. These informal schools were instrumental in educating African Americans of their citizenship rights, teaching them to read, registering them to vote and getting them ready to pass literacy tests implemented by the white power structure to keep them from voting.
Rosa Parks worked with the Montgomery Voters League to prepare African Americans to pass literacy test that were used to deny them their right to vote.
Senator-elect Raphael Warnock is the former chairman of the New Georgia Project, a voter registration and education organization who set out to register millions of unregistered Georgia voters. Rev. Warnock, a pastor at Ebenezer Baptist Church, will be sworn in as the first African American senator elected from the state of Georgia.
Fannie Lou Hamer is a civil rights icon who was fired from her job as a sharecropper after she refused her boss's demand to rescind her voter registration status.
Felicia Davis, convener of the Clayton County Black Women's Roundtable, has been canvassing door-to-door for the past 20 years to educate Black people about issues impacting them and to encourage them to vote. She hires teenagers to canvass with her and pays them $15 an hour.
Stacey Abrams, founder of the New Georgia Project, is being lauded throughout the nation for her decade-long campaign to register African American voters in Georgia. She is credited with helping Joe Biden win the state of Georgia in the 2020 presidential election because of the number of new Democratic voters her organization registered. Her workers, aged 18 to 34, focused on registering young voters of color.
Nse Ufot is the Executive Director of the New Georgia Project, founded in 2014. Their goal was to register all eligible, unregistered citizens of color in Georgia by 2020.
 
Cliff Albright co-founded Black Voters Matters in 2016 to fight against entrenched voter suppression in Georgia. In 2018, Cliff and the BVM team traveled throughout seven southern states in "The Blackest Bus in America" energizing voters and exposing voter suppression. 
LaTosha Brown is an award-winning organizer, political strategist, and jazz singer who co-founded of Black Voters Matter in 2016 to fight against entrenched voter suppression in Georgia. 
 
Next, ask students:
What do you know about voter suppression in America?
Consider sharing some of the background information at the top of this lesson. 
 
---

Video: How Georgia Turned the State Blue

Next, show this 10-minute video from the Los Angeles Times on voter registration organizing in Georgia in 2020:  
https://www.youtube.com/watch?v=WGSfOL2s5bU

Discussion questions:
Why do you think so many people worked so tirelessly to register new Georgia voters for the 2020 presidential election and also for the Senate runoff elections in January 2021?
 
Do you think the voting rights efforts going on in Georgia impact you in any way? If so, how?
 
---

Sources:
https://www.washingtonpost.com/history/2020/10/25/voting-rights-tunis-campbell-civil-war/
https://www.acluga.org/sites/default/files/georgia_voter_roll_purge_errors_report.pdf
https://www.nytimes.com/2020/12/03/us/politics/georgia-democrats-black-women.html
https://www.washingtonpost.com/politics/in-georgia-get-out-the-vote-operations-that-helped-biden-win-havent-stopped/2020/11/19/7c10ceac-2851-11eb-8fa2-06e7cbb145c0_story.html