End–of Summer Quiz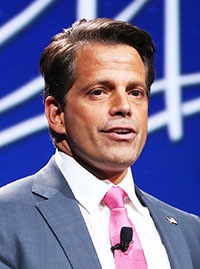 1. Which of the following people has NOT been fired by President Trump?
a) Anthony Scaramucci
b) Abraham Lincoln
c) Sean Spicer
d) James Comey
e) Jeff Sessions
f) Sally Yates
g) Michael Flynn
(Bonus question: Who is the man in the photo, and why was he in the news over the summer?) 
 
2. What is "fentanyl," and why is it in the news?
 
3. The U.S. Department of Education, under Trump appointee Betsy De Vos, has taken some of  the following actions. Which actions have they NOT taken?
 
a) introduced a plan to double the number of teachers in 41 low–income school districts
b) eliminated rules protecting students from fraud by for–profit colleges
c) taken steps toward ending the program that forgives some student debt in exchange for ten years of public service
d) loosened the rules that sanction career college programs whose graduates do not enter "gainful employment"
e) issued DOE guidelines that reduced protection of transgender students
 
f) defended  the budget proposal that eliminated funding for after–school programs and child–care for low–income parents attending college
 
4. True or False
 
President Trump has proposed cutting legal immigration to the United States in half.
 
5. President Trump and his cabinet are not known for their concern about climate change. Which climate change related news has NOT actually occurred over the summer?
 
a)  In July, an iceberg the size of Delaware and weighing about a trillion tons, broke off from Antarctica.
 
b) From June 16 to July 30, the ocean level worldwide rose 17 inches.
 
c) On June 1, President Trump announced the withdrawal  from the Paris Climate Agreement agreed to in 2015 by 196 countries.
 
d) The Congressionally–mandated National Climate Assessment (produced by scientists from 13 federal agencies) concludes that global climate change is influencing weather events at the present time and is caused by human action.
 
e) A group called America's Pledge was founded. It is a coalition of thousands of American cities, states, colleges, and companies committed to reducing America's greenhouse emissions  in accordance with the Paris Agreement.
 
6. True or False
 
Scott Pruitt, head of the Environmental Protection Agency (EPA), has proposed to test the legitimacy of global climate change by setting up an investigative panel composed of scientists who represent the global  scientific consensus and the small minority who challenge that consensus.
 
7. True or False
 
The Supreme Court decided in a 5–4 vote that women's health clinics unlawfully discriminate against men.
8. Which of the following actions did people take to defeat the Republican effort to repeal the Affordable Care Act?
 
a) Testified and protested at local town hall meetings held by representatives during their Congressional recess
 
b) Got every major patients' rights group, medical association, and disease organization to oppose the Republican plan
 
c) Staged a mass "die–in" that covered the National Mall in Washington DC
 
d) Online letter–writing, petitioning and phone–calling  campaigns to pressure members of Congress
 
 
9. True or False
Lynne Patton, who planned President Trump's celebrity golf tournaments and other lavish events (including Eric Trump's wedding), is now in charge of the Housing and Urban Development Region II (New York and New Jersey), and is responsible for billions of dollars in funds for low–income housing.
 
10. President Trump has made illegal immigration a central theme of his presidency. Which of the following immigration stories are only "fake news?"
 
a) Trump proposed to make the wall along the Mexican border transparent so that when drug dealers throw bags of dope over the wall, they won't hit innocent passersby.
 
b) Between February and May,  undocumented immigrants with no criminal record were arrested by immigration officers at an average of 108 per day.
 
c) Thomas Honan, acting director of Immigration and Customs Enforcement (ICE), has detailed a
plan whereby American citizens may detain people they suspect as illegal immigrants until a law enforcement official arrives.
 
d) Trump's proposed immigration law would admit immigrants on a merit system––with applicants graded on age, education, achievement, knowledge of English, job offers and entrepreneurial potential.
 
e) ICE's new policy requires that undocumented immigrants be treated with dignity, offered legal assistance, and be subjected to a minimum of red tape.
 
11. True or False
President Trump has nominated Kansas Governor Sam Brownback to be Ambassador–at–Large for International Religious Freedom.
 
12. President Trump's appointments to the Federal Communications Commission once again threaten "net neutrality." What is this "net neutrality" thing?
 
a)  A rule that requires nets in all professional tennis matches to be no higher than the waist  of the shortest player on the court
 
b) Rules that prevent  internet  ("net") service providers from charging different rates to different  websites
 
c) A rule that mandates that commercial fishers use the same size net for catching fish of the same species
 
d) NBA regulations (enacted after several scandals in the 1950s)  that require  referees to be fair and impartial
 
e) none of the above
 
13. President Trump's budget would cut trillions of dollars from domestic programs over the course of ten years. Which of the following are actual Trump budget proposals and which are made up?
 
a)  $600 billion in cuts to Medicaid (the federal health care program that is primarily for
people with low incomes)
 
b) a 30% cut in food stamps
 
c) elimination of the Low–income Energy Assistance Program
 
d) 50% cut to the Veterans Administration Suicide Prevention Project
 
e) $200 billion cut to the Oil and Gas Exploration and Development Fund
 
f) elimination of the National Wildlife Refuge Fund
 
g) elimination of federal funding for the Corporation for Public Broadcasting, National Endowment for the Arts and the National Endowment for Humanities
 
14. The Justice Department, under Attorney General Jeff Sessions, has taken steps to limit the rights of ______________.
a) women
b) transgender people
c) African–Americans
d) police
e) LGBT students
 
15. Attorney General Jeff Sessions' confirmation hearings were notable for the doubts raised about his commitment to civil rights. In August, the Sessions Justice Dept. sent signals that it is concerned about racial discrimination. Which of the following are true?
 
a) The Justice Dept. announced plans to monitor discriminatory practices in the hiring of board members of corporations. (Only 20% of directors of Fortune 500 companies are African–American, Latino, or Asian–Americans)
 
b) Sessions has proposed a federally–funded program to train minority recruits for local police department positions.
 
c) Justice Department spokesperson  Anita Johnson announced the formation of a "Bigotry Brigade" which will send two people with similar qualifications (one black and one white) to apply for the same job. Companies with a pattern of hiring only the white candidates will be investigated for racial discrimination.
 
d) The Justice Department released the results of a study showing that voting delays of all types were 60% more frequent at polling stations serving mostly minority citizens.
 
e) The New York Times reported on DOJ plans for "investigating and suing universities over affirmative action admissions policies deemed to discriminate against white applicants."
 
---
 
Answers
 
1.  (b). Abraham Lincoln  and (e) Jeff Sessions (as of August 2017)
Anthony Scaramucci was reportedly brought in as White House Communications Director at in order to fire disloyal staff. He served 10 days before being fired.
Press Secretary Sean Spicer was not successful in explaining Trump's contradictions to media correspondents and was fired after weeks of speculation.
James Comey, head of the FBI, was fired for persisting with his investigation into the Trump campaign's relationship with Russia.
Sally Yates, acting Attorney General, was fired after she refused to go along with President Trump's ban on immigration from seven Muslim nations.
General Michael Flynn, National Security Advisor, was less than honest about his contacts with Russia.
(Bonus question: The man is Anthony Scaramucci, who was in the news because he was fired as Trump's Communications Director after 10 days on the job.)
 
2. Fentanyl is a very powerful, highly addictive synthetic opioid that has been linked to thousands of drug overdoses and deaths.  Because of the spread of drugs like fentanyl, drug overdoses now kill more people in the U.S. than gun homicides and car crashes combined. On August 10, President Trump declared the opioid crisis a "national emergency."
 
3. (a)
 
4. True
 
5. (b) is untrue. Sea level is rising at a dangerous rate, but currently that rate is about 1/8 inch per year.
 
6. True
 
7. False
 
8. (a), (b), (c), and (e).  Polls indicated support for Trumpcare at around 18%.  Many Congress people who favored the rollback of Obamacare decided to cancel their traditional recess meetings with constituents to avoid being swamped by angry voters.
 
9. True
 
10. (c) and (e) are not true.
(a) President Trump's has also suggested the wall be constructed of solar panels.
(b) During the presidential campaign, Trump  spoke only of deporting the dangerous "bad hombres."
(d) President Trump's plan to overhaul immigration policy (including reducing legal immigration by half) will likely face strong opposition.
 
11. True. Brownback, a conservative Republican, is reportedly the least popular governor in the United States, with an approval rating of 25%. According to the New York Times, "Mr. Brownback's popularity has plummeted in recent years as the state slashed services and struggled to meet its revenue projections, problems that many attributed to Mr. Brownback's signature tax–cutting doctrine." 
 
12. (b)
 
13. (d) and (e) are untrue.
 
14. (d)
 
15. (e)
 
---
  
For Discussion
 
Which of the issues brought up in the quiz concern you most?
 
What other issues in the news are you interested/concerned about?
 
Much of the summer's political news has focused on Donald Trump. Do you think this is justified? Why or why not? What impact do you think it has that Trump has dominated the headlines? 
 
---
 
Sources
https://morningconsult.com/governor-approval-ratings-july-2017/
 
http://thehill.com/policy/finance/334768–here–are–the–66–programs–eliminated–in–trumps–budget
 
https://www.bostonglobe.com/news/politics/2017/05/22/trump-proposed-federal-budget-calls-for-deep-domestic-cuts/h7NrInPoSkPfE4Q0LvTmkK/story.html
 
https://www.nytimes.com/2017/07/11/climate/cities-states-businesses-emissions-climate-pact.html
 
https://www.nytimes.com/2017/08/01/us/politics/trump-affirmative-action-universities.html
 
https://www.savetheinternet.com/net–neutrality–what–you–need–know–now
 
http://www.slate.com/blogs/the_slatest/2017/06/30/scott_pruitt_wants_to_use_a_red_team_to_sow_doubts_about_climate_change.html