Teacher's Note
This lesson engages middle and high school students in giving thanks for Breonna Taylor's life, while offering space to share their impressions, feelings, experiences, and thoughts (IFETs) around the tragic circumstances of her death. 
If Black students or other students of color express or display strong emotions during this lesson, offer them the chance to step away, take a break (turn off their cameras) or to take care of themselves in the ways they need to. We want to encourage them to share their thoughts and feelings without doing (further) harm.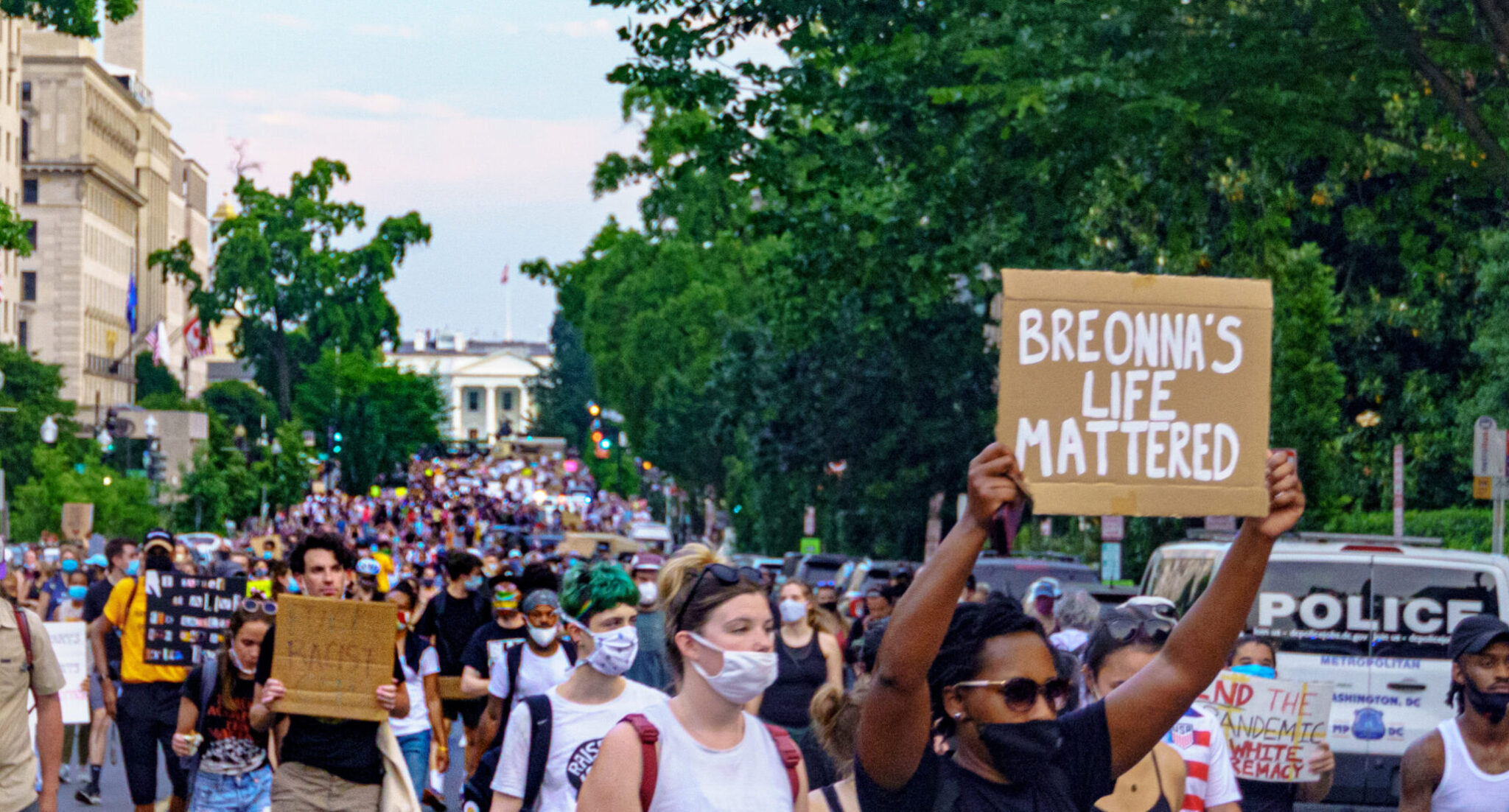 ---

Introduction
 
Tell students that today, we'll be discussing the life and death of Breonna Taylor.
Discuss with students some of the news and facts about Breonna Taylor, using the background information below.
If more information is needed, engage students in a jigsaw activity using a news story about Breonna Taylor, such as this one from the New York Times, to further educate each other around the details. 
 
---
Background on Breonna Taylor

Breonna Taylor, 26, was an award-winning Emergency Medical Technician and first responder in Louisville, KY. She loved helping her patients and her community, even when it put her on the front lines of the Covid pandemic. "She was an essential worker. She had to go to work," her mother Tamika Palmer said. "She didn't have a problem with that." 
On the night of March 13, 2020, the Louisville Metro Police executed a search warrant for Breonna's apartment, looking for drugs they never found. The drugs were reportedly trafficked by a person who did not live with Breonna - and whom police already had in custody.
Breonna Taylor was in bed when police used a battering ram to force their way into the apartment. They sprayed Breonna's home with 32 rounds of ammunition. One police officer, Brett Hankison, fired blindly into the apartment from outside, killing Breonna.
Breonna survived the frontlines of a pandemic that disproportionately kills Black people, only to have her life stolen by police. Her funeral was held on March 21, 2020. 
Breonna's killing was followed by months of outrage and activism across the country and the world. Hundreds of thousands of people across the nation marched and protested, often chanting: "Say her name: Breonna Taylor."
On September 23, 2020,  six months after police killed Breonna Taylor in her home, a Kentucky grand jury decided to indict only one of the three Louisville Metro Police Department officers involved in the killing. 
Brett Hankison, the officer who killed Breonna, was charged with three counts of "wanton endangerment" over shooting into neighboring apartments. Bond was set at $15,000. The grand jury did not announce charges against Jonathan Mattingly and Myles Cosgrove, the other two officers involved. None of the three face state charges directly over Taylor's death.  After the indictment was made public, people once again took the streets in protest.
 
---

Opening: Moment of Breath

"It's hard to breathe without her." These are the words of Tamika Palmer, Breonna Taylor's mother. 
Invite students to engage in a series of deep breaths, to settle their nerves, minds, and bodies, and to breathe in honor of Breonna, and in support of her mother. Students can close their eyes, lower their gaze, rest their heads on a surface, or do what is needed to rest quietly for 30 seconds.
 
---

Share Out
 
Share this quote:
"The most disrespected person in America is the Black woman. The most unprotected person in America is the Black woman. The most neglected person in America in the Black woman."   - Malcolm X
Invite students to engage in discussion around the quote, considering:
 
How does this quote relate to the decision in the case?
 
Share your impressions, feelings, experiences, and thoughts about this quote. Does this quote resonate with you, or hold meaning for you? If so, how?
 
To make this quote no longer relevant, what needs to occur in our society?
 
---

Express Thanks
 
Invite students to express thanks to Breonna for something they believe deserves acknowledgment and/or appreciation.  
Students might work individually or collectively to write a poem, song verse, or other expression to Breonna, her family, or the protesters and supporters.  They might use the Zoom white board, a word cloud art generator, or work on their own in journals or on paper to capture words, short phrases of gratitude, and other IFETs they would like to share.  
For younger students, it might be helpful to provide suggested words and phrases to incorporate, such as Black Lives Matter/BLM, justice for Breonna, or say her name.
 
---
Closing

Share with students some closing thoughts, such as:
Breonna Taylor was a 26-year-old public servant, friend, daughter, lover, and community member whose young life and bright future were stolen from her. The impact of her murder has been felt around the world, and it's important to continue to honor her, her memory, and her contributions to society.

While no amount of marching, lamenting, or fighting will bring Breonna back to her family and friends or the communities who relied so much on her compassion, care, and expertise, it may help to heal some of the hurt and pain.

We'll keep fighting in her name while we continue to take care of ourselves and each other in the ways that Breonna would have encouraged. We hope that Breonna's loved ones will know that her memory is inspiring love, power, and kindness from people around the world. 

Engage students in three more deep breaths and a moment of silence. 
 
---

Alternate Closing

Share with students the following excerpt from a letter from Melina Abdullah, chair of the department of Pan-African Studies at California State University, Los Angeles, and a co-founder of the Los Angeles chapter of Black Lives Matter:
"The truth is that we hold within us the magic of our grandmothers' hands...toughened, beautiful, leathery, brown with cracks that...if you examine closely...map the road back to generations past….to grandmothers before.

The truth is that rhythm, and life, and mysticism inhabits the sway of our hips to songs that live in our own heartbeats. The truth is that the whispers that wake us in the predawn hours, that echo from the rain and the wind, are the voices of our foremothers whirling, encircling, protecting us from harm, and ushering us into our purpose. The truth is that the draw we feel to other Black women, hidden within gazes met, is the power to transform the world."
Invite a few students to share their impressions, feelings, experiences, or thoughts about this statement.
 
---

Extension Activities
 
1. Share Beyonce's "Brown-Skinned Girl" video or song and have students share their IFETs about it. 
 
2. Invite students to look through these protest images and discuss:
What is the purpose of protests? Are they meaningful?
Has anyone engaged in a protest, for Breonna or any other cause? What motivated your decision and your action?
 
---
Sources
 
https://www.nytimes.com/article/breonna-taylor-police.html
https://www.theguardian.com/us-news/2020/sep/26/breonna-taylor-protesters-stories-portraits
https://www.nytimes.com/2020/09/24/us/breonna-taylor-protests-photos.html
https://justiceforbreonna.org/
https://blacklivesmatter.com/black-women-are-divine/
https://www.npr.org/sections/live-updates-protests-for-racial-justice/2020/09/23/914250463/breonna-taylor-charging-decision-to-be-announced-this-afternoon-lawyer-says