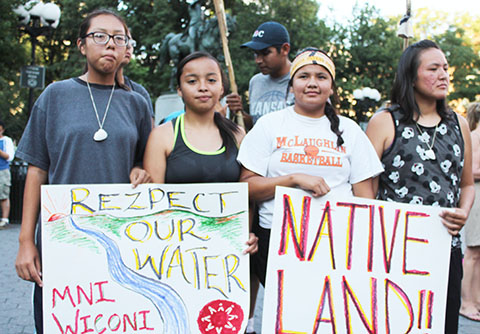 Standing Rock activists at a rally in NYC (photo by Joe Catron, CC license). 
---

To The Teacher:
 
This lesson allows students to deepen their understanding of an aspect of Indigenous peoples relationship with the earth. Students will engage with two short films about peoples' resistance to the privatization and loss of access to clean drinking water. The activity, which is designed to be used over two days or two sessions, aims to bring awareness of the current global crisis of the exploitation and privatization of our natural resources and of how communities can come together to protect the environment and human rights. Resources: Abuela Grillo & Water Warriors

Preparation

We recommend that you watch both films before presenting them to your students. 
On Day 2, we suggest opening the activity by having students read a statement acknowledging the Native peoples on whose land you and your students live. 
If you have not yet prepared a land acknowledgement statement for your community, consider creating one: Research who are the Indigenous peoples that originally lived on this land, and draft a statement for the class to use. Note:  This interactive lands map may be helpful.  Also see this guide to land acknowledgments. See Morningside Center's land acknowledgment statement for New York City here. 

 
---

About the Films

Abuela Grillo: 13-minute animated film
"This animated film takes you on a journey with Abuela Grillo (Grandmother Cricket), who walks through rural and urban landscapes with a raincloud constantly looming over her shoulder. She encounters various obstacles as the film weaves a sad – and deeply symbolic – tale of environmental exploitation and government corruption." 
The Abuela Grillo character is based on a myth from the Ayoreo, a nomadic Indigenous people of Bolivia. Grandmother Cricket, a special being who can create rain, tells the story of a historic moment in Bolivian water politics - The Cochabamba Water War. This  was a series of protests that took place in Cochabamba, Bolivia's between December 1999 and April 2000 in response to the privatization of the city's municipal water supply company. The wave of demonstrations and police violence was described as a public uprising against water prices. "Abuelo Grillo's ability to make it rain is a metaphor for her people's inherited, old wisdom and spiritual power to retain balance and good health to their people and land. Water is the most essential part of life, so the metaphor speaks to all the issues in the world over water and how we are connected."  
Source: https://chaikadai.wordpress.com/2012/11/03/abuela-grillo-grandmother-cricket/)
 
Water Warriors: 22-minute film
"When an energy company begins searching for natural gas in New Brunswick, Canada, Indigenous and white families unite to drive out the company in a campaign to protect their water and way of life."
Texas-based SWN Resources arrived in New Brunswick, Canada, to explore for natural gas. The region is known for its forestry, farming, and fishing industries, which are both commercial and small-scale subsistence operations that rural communities depend on. In response, a multicultural group of unlikely warriors – including members of the Mi'kmaq Elsipogtog First Nation, French-speaking Acadians and white, English-speaking families – set up a series of road blockades, preventing exploration. This short film shows us the impact and outcomes after months of resistance. 
Source:  https://www.storyline.media/waterwarriors
---

Part 1 / Day 1: Abuela Grillo
 
Opening (5 minutes)
Invite three or four students to share a one-word response to this question:  
What is your favorite beverage?  
As the teacher, share your response last, and note that it takes water to create most of these beverages.
Invite three or four students to answer these questions:
Where does your water come from? 
What would happen if someone didn't allow you to have access to your source of water? 
What would you do? 
 
Introduce and Watch Abuela Grillo (15 minutes)
Introduce the story of Abuela Grillo, using the material above. (2 minutes)
Watch the film. (13 minutes)

Discussion (15-20 minutes)
In pairs, have students discuss:
What are your impressions, feelings, experiences, or thoughts (IFETs) about the Abuela Grillo story?
Come back to the large group and have students share their partner's IFETs
Thank students for sharing your impressions, feelings, experiences, or thoughts. Suggest that when we lose our connection to the earth and to traditions that value the earth and its resources, we begin to disrespect and devalue our resources, our lifelines, and each other. 

Closing: (1 minute)
In a moment of silence, have students give gratitude for having access to water.
---

Part 2 / Day 2: Water Warriors

Opening (5 minutes)
See suggestions above for creating a land acknowledgment statement in advance of this session.  
If you have a statement already, ask students: 
What is a land acknowledgment and why do we make it?
Elicit or explain that a land acknowledgement is a statement that pays tribute to the original inhabitants of the land. The purpose of a land acknowledgment statement is to show respect for Indigenous peoples and recognize their enduring relationship to the land. You might also have students view this video up to the part about land acknowledgments. 
Have a volunteer read the land acknowledgment for your community. (If you are in New York City, see Morningside Center's land acknowledgment statement here.)
If you do not have a statement prepared, ask students:
Who were the Indigenous people that originally lived on this land? 
If we don't know, how can we find out?
Elicit or explain what a land acknowledgment is, and make a plan with students to create a statement for your school/community. 

Introduce and Watch Water Warriors (25 minutes)
Introduce Water Warriors, using the information above.  Note that Mi'kmaq  is pronounced "Meeg-mah." Have students watch this 2-minute video introducing Mi'kmaq.
Watch Water Warriors (22 minutes)
Discussion 
Ask students: 
How are ecological justice and Indigenous rights closely connected?
What issues are closely connected in our community struggles?
 
Activity
Invite students to create a warrior chant inspired by the film and the discussion. The chant can be just a few lines. This can be something they use during a peaceful protest or as a reminder to themselves around taking action to defend human and ecological rights.
Play The Mi'kmaq Honor Song as they work on their chants. 
Share that the song was written by George Paul (Spotted Eagle), and translates to: "Let us greatly respect our being L'nu. My people let us gather. Let us greatly respect our Native roots. My people let us help one another. Let us help one another as Creator intended when he put us on the earth."
 
Closing
Have each student share their chant. Thank each other.