Introduction
According to Chalkbeat "after 16 years teaching 5- and 6-year-olds, Meredith Schechter of CW Henry Elementary School in Philadelphia knows that "even first graders feel the stress around them. Many may not know why everyone is stressed, and that only increases their anxiety."
So how do you explain to youngsters the violence that occurred at the U.S. Capitol on January 6, 2021?  Chalkbeat reports that Schechter, whose school is diverse, gave her students some basic facts and let them ask questions. She worked to relate the moment in history back to the children's lives, discussing "big feelings" and "the need to make good choices."
"We talked about what are healthy and unhealthy ways of dealing with disappointment," she said. "If you are disappointed and don't get your way, there are healthy and unhealthy ways of dealing with it." …
For some teachers, the discussion about the violence at the Capitol  was part of an ongoing conversation. Taelor Garrett's fifth graders at KIPP Indy Unite Elementary in Indianapolis have discussed the national unrest as well as turmoil closer to home, such as the May killing by police of Dreasjon Reed, a 21-year-old Black man.
"They are so young and have already seen so much," Garrett said of her students, who are mostly Black and brown.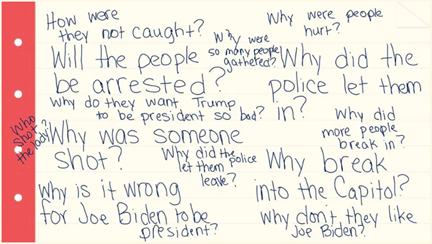 Image from "Beyond the Spotlight."  
 
---

Resources
 
Below is a list of resources for you to consider as you prepare yourself for having these conversations with your students – what to say, what activities to introduce and how.
 
1.    Two Morningside Center's TeachableMoment posts make recommendations about how to process difficult or controversial events in the world, today and going forward:
Teaching In a Time of Crisis by Marieke van Woerkom. She recommends: Don't ignore issues, be present and available, invite students' feelings and thoughts, listen and paraphrase, normalize students' feelings and thoughts, check in with students, provide structure, encourage students to generate questions, promote dialogue (not debate).  
 
Teaching about Controversial or Difficult Issues by Jinnie Spiegler. She recommends:  Create a safe, respectful, and supportive tone in your classroom, prepare yourself, find out what students already know or have experienced about the topic, compile students' questions and examine them together, make connections, have students investigate and learn more, explore students' opinions and promote dialogue, be responsive to feelings and values, make home connections, do something (that is, encourage students to take action on the issue, if they care about it).
 
2.    The National Education Association (NEA) published Talking to Kids About the Attack on the Capitol: Explaining the violent attempt to stop Congress from certifying that President-elect Joe Biden won the election. The piece includes suggestions appropriate for younger students. The key takeaways are:
Wednesday's violence at the U.S. Capitol is an attack on our country and on our democratic institutions.
 
Most children are aware of more than we realize, and many educators and parents have spoken frankly to them about the racism and bigotry that they have experienced or witnessed.
 
Continuing that discussion is critically important in this moment.
 
3.    The National Association of School Psychologists created two relevant documents that outline different ways that we as teachers can ensure well-being in the context of the 2020 election and its fallout: 
4.    Read the following blogpost by reader, writer, and teacher Kylene Beers, Tomorrow Is Not Simply Another Day at School.  
Beers writes about the way children will likely show up at school (in person or remote) and about how we as teachers can help them process the events of the past few days/weeks.  She suggests activities and readings including Langston Hughes Let America Be America Again.  She recommends three questions when reading nonfiction:  
What surprised you?
What did the author think you already knew?
What changed, challenged, or confirmed your thinking? 
She encourages teachers (and students) to practice listening and encourage wonderings. For younger children, she encourages us to have them talk about how we should share our differences. "I want them to know that far more people share their disappointments with words rather than violence. I would want them to draw pictures and explain how they felt and let them talk and talk."
 
5. Some useful starting questions that promote curiosity can be found @thenurturednature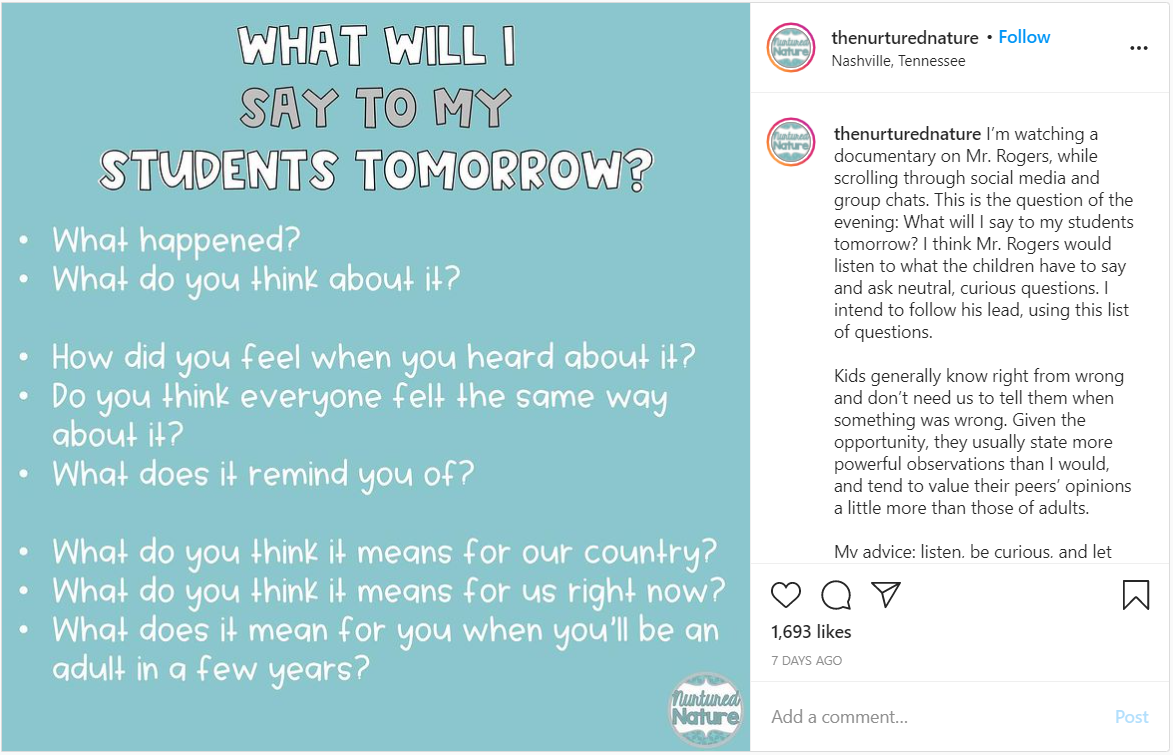 6.    Teaching Tolerance published To Sustain the Tough Conversations, Active Listening Must Be the Norm: We have to prepare students—and ourselves—to communicate, question, and work our way through a disconnect when the outside world spills into the classroom, by teacher Christopher Howell.
This piece, from November 2020, begins with the line:  "What do you do when you attend a protest with people shouting, 'Defund the police,' your voice and car horn raised with them, and one of your students' parents is one of the cops handling the blockade?"  
 
7.    Dena Simmons from the Yale Center for Emotional Intelligence shares eight ideas for addressing the violence at the Capitol and beyond @denasimmons 
Offer students space to express how they are feeling about the rioters at the Capitol via chat, emoji, conversation or not at all.  Share your own feelings if you're comfortable.
 
Thank students for sharing their feelings and encourage them to continue to process them via a journal entry or conversation with a trusted person.
 
Break students into groups to read news coverage on the story and to reflect on how different outlets share the events.
 
Share news coverage of Black Lives Matter protests and invite students to compare and contrast coverage and to come up with themes they may notice.
 
Ask students to present the themes about what they uncovered in their groups and invite them to discuss as a whole group using a virtual discussion protocol.
 
Break students into groups again to work on a letter to media outlets to share what they discovered in the news coverage of events. Then invite students to brainstorm how they would restore peace and democracy.
 
To close, invite students to commit to one self-care activity.  You can share examples of your self-care strategies and share other ideas for what they might do to care for themselves.
 
Now, engage in a collective breathing exercise with students to support with their finding peace in all of the chaos of this moment.
 
8.    The "Beyond the Stoplight: Creating Equitable and Caring Classrooms for Children" website posted some very useful Resources for Teachers on the Days After the Attack on the U.S. Capitol, a guest post by Dr. Alyssa Hadley-Dunn, Associate Professor of Teacher Education at Michigan State University. In her post she makes recommendations based on race (of both teacher and students), which are essential to consider if we are to educate without doing harm. She writes: 
"A reminder about everything that I share here: There is no one easy answer. Not everything works for every student or every teacher or in every classroom. I am not an expert in your classroom or your students (or an expert in anything, actually!). This is not a conversation that needs to or should be relegated to only Social Studies and English Language Arts classrooms."