To the Teacher 
 
Many of us are reeling from events in the news over the past week. These include the police shootings of two Black men -- Alton Sterling in Baton Rouge, Louisiana on July 5 and Philando Castile in Falcon Heights, Minnesota, on July 6 - and the July 6 killing of five police officers by a sniper at the end of what had been a peaceful protest in Dallas, Texas.
 
Some of us are charged with the painful but important task of talking with young people about these upsetting events.  Below is one suggested approach for acknowledging the painful feelings surrounding these killings and pointing to positive action.  (For another approach, see our recent posting here.) 
 
In addition, please see our guidelines for talking with young people about difficult issues here and here.
---


Three horrific events over three days

Share with students that over a period of just a few days in early July, a series of horrific events hit the news, including the police killing of two Black men - Alton Sterling in Baton Rouge, Louisiana, and Philando Castile in Falcon Heights, Minnesota - and the killing of five police officers by a lone shooter at the end of what had been a peaceful protest in Dallas, Texas. All this follows on the heels of another deeply upsetting event, the shootings at a gay nightclub in Orlando in June.
While we are discussing these events together because they happened within a short period of time and because all relate to wider issues, including race, racism, violence, gun violence, and police, it's important to remember that each tragedy is separate, and important to itself. Each lost life will be mourned. 
Share with students some basic facts we know so far about the three tragedies:
 
Alton Sterling, 37, was allegedly shot and killed by two police officers in Baton Rouge, Louisiana, on July 6, 2016. The shooting happened as the officers tried to arrest Sterling outside a convenience store, where he had been selling CDs. A widely-circulated video shows an officer aiming a pistol at Sterling and firing while Sterling was prone and restrained by another officer.  Alton Sterling was Black.  The killing spurred vigils and protests. The U.S. Justice Department opened a civil rights investigation into the shooting. [Note: The video may not be appropriate for your students.]
 
Philando Castile, 32, was fatally shot during a traffic stop for a broken taillight in Falcon Heights, Minnesota, near St. Paul, on July 7. The shooting was captured on video by Castile's girlfriend, Diamond Reynolds, who was in the car, along with her young daughter, who was in the back seat.  Reynolds said that Castile was trying to retrieve his license and registration, which the officer had requested, when the officer opened fire.  After the video of the shooting went viral, demonstrators gathered around the home of Governor Mark Dayton. Dayton said he was shaken by the video. He asked:  "Would this have happened if the driver were white, if the passengers were white? I don't think it would have." Castile was the beloved cafeteria supervisor at a St. Paul public school. [Note: The video may not be appropriate for your students.]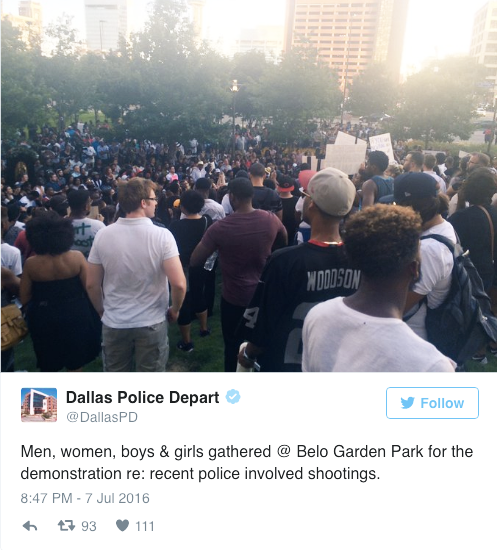 On July 7, five police officers were killed and nine other people were injured by a lone gunman at the end of a demonstration in Dallas, Texas, against the killings of Sterling and Castile.  It was one of many such protests across the country. Some 800 demonstrators - people of color and white people - had been peacefully protesting, with no reported conflicts with police.
Then, a shooter, Micah Johnson, 25, allegedly opened fire, killing five police officers: Lorne Ahrens, Michael Krol, Michael Smith, Patrick Zamarripa, and Brent Thompson. Nine other people, including seven police officers and two civilians, were wounded. The police killed Johnson on July 8, after an hours-long standoff, using a robot-controlled bomb. Johnson was an Army veteran who lived in the Dallas area. The Dallas police chief said that Johnson wasn't connected to the protesters or to any group. He said that Johnson had been angry about the recent police shootings, and "stated that he wanted to kill white people, especially white officers." 
Above: The Dallas Police Department tweeted this image about the peaceful protest that occurred before the shooting on July 7. 
 
---

Go rounds: 

In a circle go-round, ask students the following.  (See our guidelines on the circle process here.) 
What emotions do you think the friends and family members of Alton Sterling or Philando Castile might be feeling right now?  
 
What emotions do you think friends and family members of the slain police officers might be feeling right now?
---

 
Fighting for justice and peace
 
The deaths of Alton Sterling, Philando Castile, and the five police officers in Houston have stirred up many understandable feelings, including grief, despair, and outrage. Some people will respond to these events with hatred and violence. 
However, people and organizations across the country are also responding with positive action aimed at challenging racism, injustice, hatred, and violence. They've found hundreds of powerful and creative ways to do it. 
 
Ask students: 
What kinds of actions have people have taken recently to combat racism and violence?  Can you think of examples? 
 
Here are some ways people have taken action:
 
Sharing our grief. Across the country, people have come together in vigils and memorials to mourn the deaths of those who have been killed, to offer their solidarity to their loved ones and communities, to comfort one another, and to gather strength to stand up for justice and peace.  Memorials have been created for the victims, attended by thousands. In Baton Rouge, a brass band joined a march to memorialize the life and death of Alton Sterling.
 
Protesting.  Now and over the past several years hundreds of thousands of people from all backgrounds have participated in marches, sit-ins, die-ins, civil disobedience, and other forms of protest in communities and on campuses across the country, demanding racial justice, an end to police violence against people of color, and legislation to restrict guns. These protests, often aligned with the Black Lives Matter movement, have raised up and reshaped the discussion about racial injustice in the United States over the past few years.
 
Making art. Artists and musicians everywhere have used their art to speak out for racial justice and for peace. In an explosion of music, poetry, visual arts, performance art, videos, plays, stories and books, artists have expressed their grief, anger, solidarity, and vision for a better society.  One famous example is JayZ's newly released song Spiritual, about the killings of Black men by police officers.
 
Teaching. From campus teach-ins and conferences to everyday classroom conversations, educators and students are making time to learn about and discuss issues related to racial injustice, our criminal justice system, policing, gun control, and the need for broader changes in our society.
 
Organizing and legislating.  Activists, scholars, and political leaders have formulated a wide range of solid policy proposals aimed at addressing racial injustice and violence.  And legislation has been introduced at many levels of government. Last year, activists launched an initiative called "Campaign Zero." It includes an interactive website that describes, tracks, and offers ways to advocate for proposed federal, state, and local laws that would address police violence and reform the criminal justice system. They include demilitarizing law enforcement, increasing community oversight, limiting use-of-force, and requiring independent investigation and prosecution of police violence cases. 
---

 
Go-Round and Discussion
 
In a circle go-round, ask students:
 What kind of action can you imagine taking - either as an individual, as a class, or as part of another group - to promote justice and peace in the wake of these killings?
Note that in order to take action, we need information and a plan. Ask students:
What events and issues do we need to discuss and better understand in order to take the kinds of actions we imagine?  
 
What steps can we take as a class to gather this information and develop a plan of action?
 
Work with students to develop a plan for study and action that might result in a class project, individual projects for students, or in students joining activist projects already taking place in their school, community or state.