Restore360 is a comprehensive program for creating equitable K-12 schools where students and adults thrive.
Through full integration of social and emotional learning (SEL) and restorative practices, Restore360 helps all members of the school community:
Strengthen their connections with each other, creating a more positive school climate 


 

Bolster their social and emotional skills and their cultural fluency 


 

Develop skills to resolve conflicts and problems in a restorative way rather than a punitive way 


 

Increase equity by reducing suspensions and the disproportionate use of suspensions
Morningside Center provides training, coaching, and tailored support to help schools make the shift to whole school SEL and restorative practices.
The classroom is where this transformation begins: All students develop their skills and a sense of community through daily or weekly restorative circles using curricula including The 4Rs (grades preK-5), C Squad (grades 6-8), or Building Belonging (grades 9-12). 
Meanwhile, the school transitions to a restorative discipline policy, and staff members learn how to use restorative interventions to address situations in which harm has been done, creating an alternative to punitive discipline. They engage in courageous conversations  about race to become more aware of implicit and explicit barriers to creating an equitable learning environment for all young people.
Restore360 engages all members of the school community in helping to lead the effort, including all staff, students (who serve as peer mediators, peace helpers, or circle facilitators), and parents.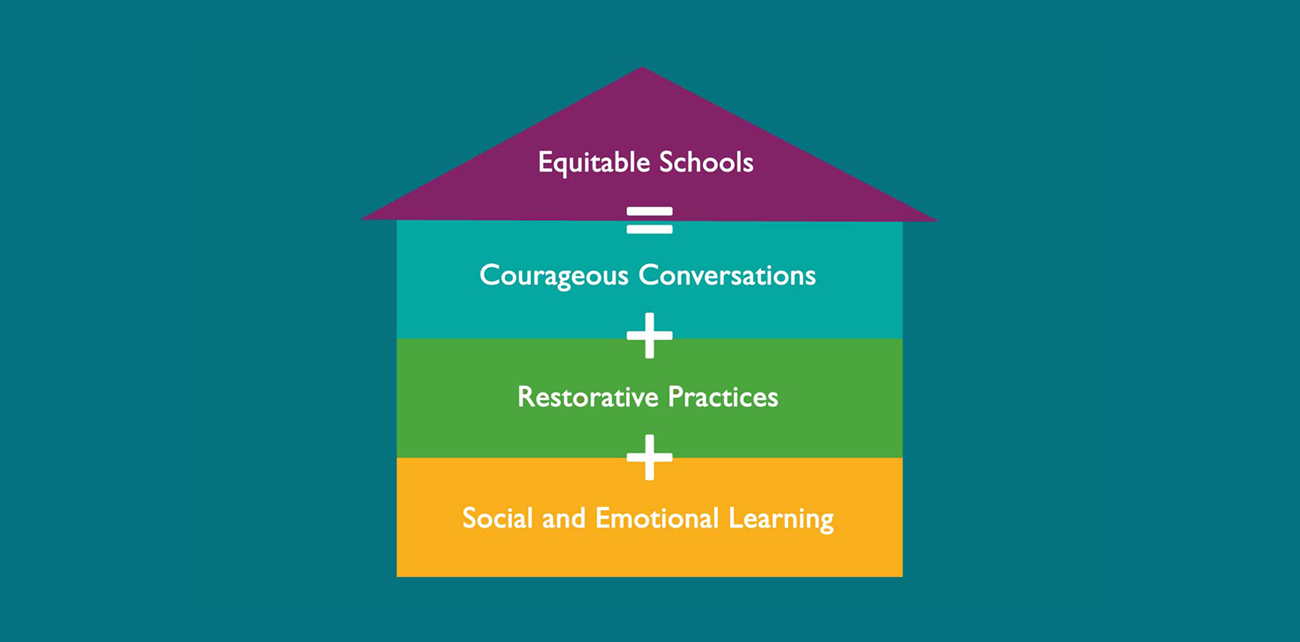 By spreading social and emotional learning and restorative practices school-wide – and through courageous conversations that build the cultural awareness of everyone in the school community – we can make our schools more caring, productive and equitable. 

Morningside Center provides training and coaching for all members of the school community to help them on the path to a more equitable school. 

Morningside Center received a federal Investing in Innovation (i3) grant to increase racial equity in schools and improve outcomes for students through a comprehensive Whole School Restorative Practices Project that is based on Restore360. Learn more.
Testimonials
The skills that my students are learning through Morningside Center play out not only at school, but throughout their lives. They'll take these skills to college and the workplace, and they'll be better equipped to deal with conflict and remember what's important to them – all of the things that will help them be good people.

Beth Mowry, Teacher, Brooklyn School for Collaborative Studies

We've created a whole different atmosphere – one of love and respect.  Kids are less likely to get into fights. When there is a fight, they know that they won't be demonized.  They have a moment of grace when they can understand what has happened and why. Finding creative responses to conflict can be life-changing.

Brett Schneider, Principal, Bronx Collaborative High School
Stories and Voices
The class had already earned a reputation for being one of the more difficult ones in a school that considers itself the last stop for young people who have spent the majority of their student careers majoring in "Disruptive" and minoring in "Challenging."
The students in Mr. Van Nort's senior English class had their last Circle in mid-June. Mr. Van Nort asked everyone to reflect on their experience together at the Green School, a public high school in Brooklyn. Then he passed the group's talking piece (a pink and purple stuffed dog) around the Circle.