Schools that participate in Morningside Center's restorative practices programs (including Building Belonging and Restore360) see suspensions drop dramatically.
We examined three years of suspension data from the New York City Department of Education (2012-2015) and compared overall suspension rates to those in schools implementing our programs.
While suspensions dropped by 36% in NYC public schools overall during that period, schools that participated in our programs saw a 43% drop.  Furthermore, for each additional year a school took part in the program, suspensions continued to drop. Schools in the program for at least three years saw a 68% drop in suspensions.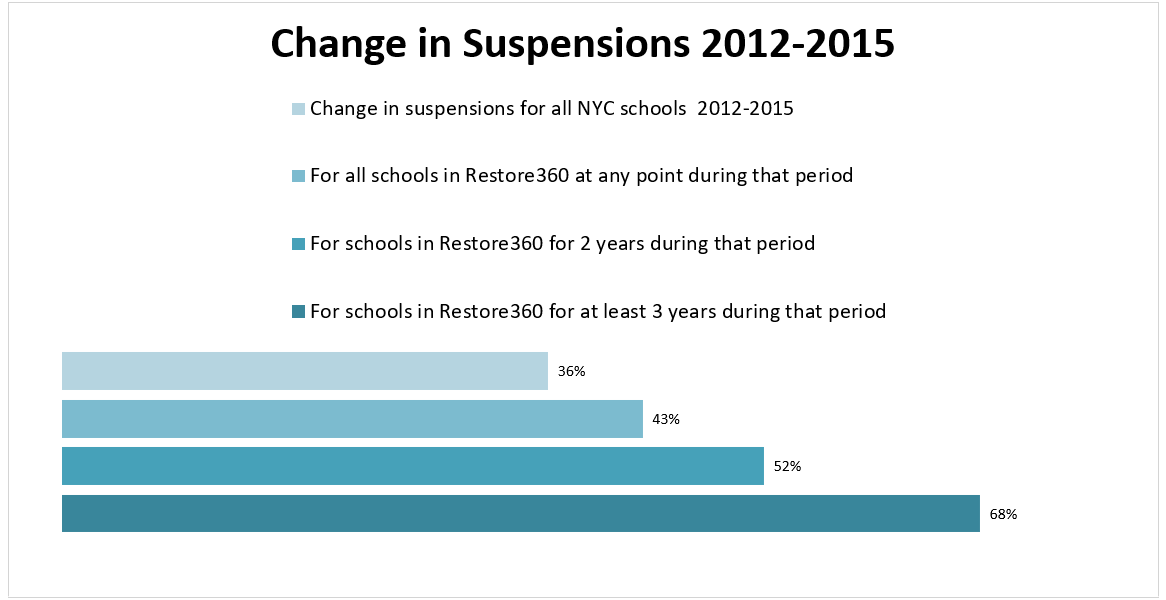 We later examined NYC Department of Education suspension data for the 2015-16 year. Schools in our programs continued to see drops in suspensions that exceeded those of NYC schools overall.
Each year a school continued in the program, suspensions dropped further.  Schools that received training or coaching over three or more years during any point between 2012 and 2016 saw a 72% drop in suspensions (compared to 46% for the city overall during that period).
We also examined data on the number of discipline incidents for schools in the program. Schools in the program for at least three years saw a 70% drop in discipline incidents with and without weapons during that period. They also saw an increase in graduation rates that exceeds that of NYC schools overall.
Landmark High School Principal Caron Pinkus credits the restorative practices her school has been implementing through Morningside Center for the reduction in suspensions she's seen at her school.  She explains:  
"When kids have been doing circle all year, they feel part of a community, and they don't want to disrespect that community by fighting.  So there are fewer fights. The staff is not as quick to suspend, even when something does happen. We're a lot more conscious about the impact of doing that and we have other approaches to try."
Bronx Collaborative High School Principal Brett Schneider also sees the connection between restorative practices and an improved school climate:  "We noticed that we hadn't had a single fight, physical or verbal, in 12 weeks. It's because we've been building trust. We've created a climate of civility and respect."