To The Teacher
This lesson deals with a political issue that is also extremely personal for many students of color, particularly African Americans. For decades, dominant culture beauty standards and discrimination based on hairstyle choices have significantly impacted African Americans. Because this topic is so personal, it is best used as part of social and emotional learning program and/or in small group restorative practice or advisory circle sessions.
Teachers should be experienced in leading community-building and issues-based classroom circles before engaging students in this circle lesson.
In the lesson, students and teachers will:
explore issues of power, discrimination and standards of beauty
engage in a circle discussion about the impact of dominant culture beauty standards on people's hairstyle choices
engage in a circle discussion about discrimination based on dominant culture beauty standards
This lesson explores a topic that many may have strong opinions and feelings about. Before beginning the lesson, consider how students may react and how to ensure a supportive climate for the discussion. You may want to review these guidelines for discussing upsetting issues.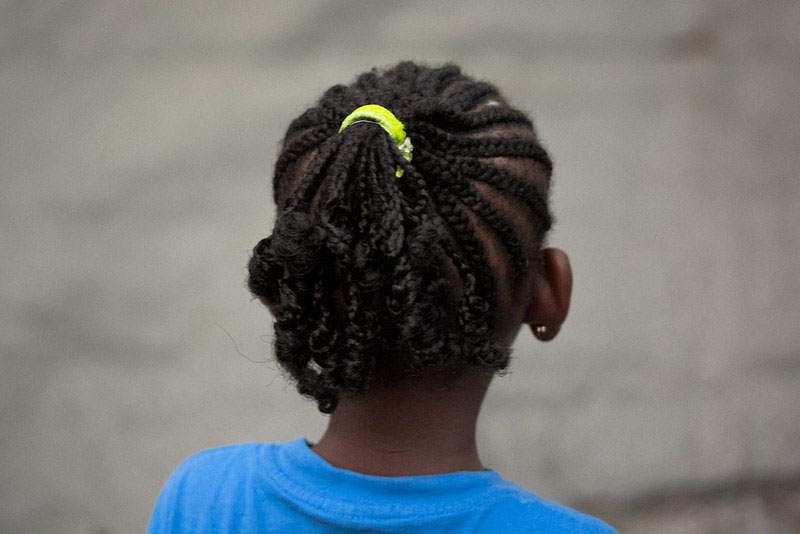 ---

Reading: The CROWN Act
During the past decade, numerous news stories have chronicled workplace and school-based discrimination of people, principally African Americans, who choose to wear natural and cultural hairstyles. In 2017, a preparatory academy in Montverde, Florida, asked a Black teenage girl to change her natural hair because it violated the school's dress code. In 2018, a middle-school student in Gretna, Louisiana was removed from school due to her braided extensions.*
On July 3, 2019, California became the first state to prohibit discrimination based on hair. Gov. Gavin Newsom (D) of California signed into law a bill known as the Creating a Respectful and Open Workplace for Natural Hair Act or the CROWN Act. The bill, authored by an African American woman, Sen. Holly Mitchell (D-Los Angeles), amended anti-discrimination laws already in force (in California's Education Code) as well as the Fair Employment and Housing Act, to include hair texture and protective hairstyles as part of its definition of race. The Act protects people wearing braids, locs and twists, cornrows – hairstyles commonly worn by African Americans – against discrimination in schools or in the workplace.
Sen. Mitchell said the CROWN Act was about inclusion, choice, and pride. She further stated, "This law protects the rights of Black Californians to choose to wear their hair in its natural form, without pressure to conform to Eurocentric norms. I am so excited to see the culture change that will ensue from the law."
A week after California's law, New York Gov. Andrew Cuomo (D) signed into law an amendment to the Human Rights Law and Dignity for All Students Act to make clear that discrimination based on race includes hairstyles or traits associated with race. As of November 2019, these are the only two states with a law specifically banning discrimination based on hairstyles commonly worn by African Americans. 
 
---
Circle Lesson
 
ROUND 1:  I Am Not My Hair
Ask students to read aloud the India.Arie lyrics below, excerpted from her song, "I Am Not My Hair." (Place the lyrics on students' chairs before they enter the circle.)
 
I Am Not My Hair Lyrics
Good hair means curls and waves
Bad hair means you look like a slave
At the turn of the century
It's time for us to redefine who we be
You can shave it off
Like a South African beauty
Or get in on lock
Like Bob Marley
You can rock it straight
Like Oprah Winfrey
If it's not what's on your head
It's what's underneath and say HEY....
I am not my hair
I am not this skin
I am not your expectations no no
I am not my hair
I am not this skin
I am a soul that lives within
Writers: Andrew Ramsey, Shannon Sanders, India.Arie, Aliaune Akon Thiam
 
Mixed-ish Clip
After students read the song lyrics, have them to watch this 1:56-minute clip of an episode of Mixed-ish, which deals with the subject of hair in African American communities:
https://www.youtube.com/watch?v=bcBxpYZuZ5g

First Circle Prompt: What message is being shared in India.Arie's lyrics and in the Mixed-ish episode?
ROUND 2:  Athlete forced to cut his locs
Ask students to read the transcript of an NPR report about a New Jersey High School wrestler who was forced to have his locs cut or forfeit a match just minutes before the match was to begin in January 2019.
https://www.npr.org/2018/12/27/680470933/after-h-s-wrestler-told-to-cut-his-dreadlocks-or-forfeit-adults-come-under-scrut
 
Second Circle Prompt: What are your thoughts and feelings after reading this story? Should all states pass their version of the CROWN Act? If so, what impact do you think these laws will have?
---
Closing
Invite circle participants to offer one word to describe how they're feeling.
---
Additional Reading
How Natural Black Hair at Work Became a Civil Rights Issue, by Chante Griffin, July 3, 2019. Retrieved from  https://daily.jstor.org/how-natural-black-hair-at-work-became-a-civil-rights-issue/