To The Teacher:
 
What does youth climate action look like in the Biden era? Biden has shown much greater willingness than his predecessor to accept climate change as a grave threat to civilization. Nevertheless, young people are pushing for bolder measures to decarbonize the economy and mitigate the impacts of global warming.
This lesson examines the current state of the youth climate movement and how young people are working to influence public policy. The first reading focuses on Biden's proposed infrastructure bill, the steps it would take to combat climate change, and the criticisms levelled against it by youth organizers who believe it does not go far enough. The second reading looks at youth in the Fridays for Future movement who are pushing for change at the international level, as well as a local example of Indigenous-led organizing within the United States. Questions for discussion follow each reading.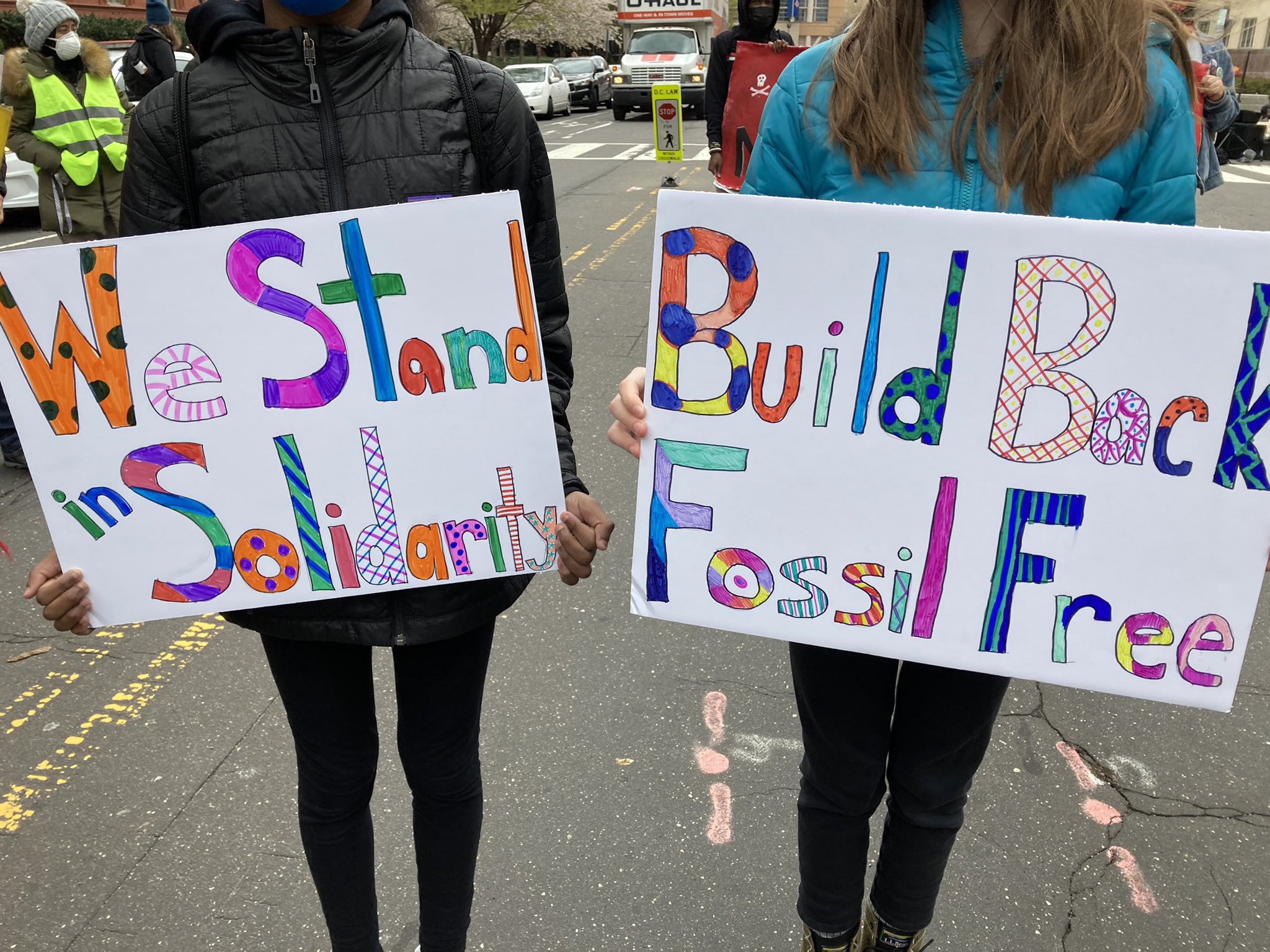 ---

Reading One
The Youth Climate Movement Confronts the White House
 
What does youth climate action look like in the Biden era? As President Biden has taken office, he has shown much greater willingness than his predecessor to accept climate change as a grave threat to civilization. Nevertheless, young people are not waiting for the president and other government officials to take action themselves. Rather, they are pushing politicians to adopt bolder measures to decarbonize the economy and mitigate the impacts of global warming.
In his first months in office, President Biden has taken some significant steps to address the climate crisis, including canceling the permit for the Keystone XL oil pipeline, rejoining the 200 member country pact to reduce climate warming emissions called the Paris Agreement, and reinstating over one hundred environmental regulations that had been removed or scaled back by President Trump. Perhaps more significantly, in late March the White House proposed a $2 trillion infrastructure bill designed to take on challenges ranging from bridge and road repair to the revitalization of child care facilities. The bill also includes significant investments in clean energy and other measures designed to address the climate crisis.
Alexander C. Kaufman, a senior reporter at Huffington Post discussed some of the details of Biden's plan. Kaufman wrote:
By any measure, the $2 trillion infrastructure package President Joe Biden unveiled… marks the most significant federal climate investment to date.

The American Jobs Plan, outlined in a nearly 12,000-word fact sheet, earmarks $500 billion for clean energy investments and research, including $174 billion for electric vehicles and charging networks, $165 billion for public transit and trains, and $100 billion for renewable electricity and new transmission lines. There are billions more for repairing water systems, relocating whole communities threatened by climate disaster and plugging abandoned oil wells and mines.

In all, the plan represents more than five times the climate spending the Obama administration secured in the 2009 American Recovery and Reinvestment Act.

Yet it's still about five times too small to bring the U.S. economy's planet-heating emissions down to zero, the level scientists say we need to keep warming in a relatively safe range.
 
As Kaufman further explains, although the Biden administration encouraged climate groups to embrace the plan, it encountered a less-than-enthusiastic reception from many activists. He wrote:
On a private call with activist groups Tuesday evening that HuffPost listened to, White House climate policy czar Gina McCarthy acknowledged that the spending package may disappoint climate advocates hoping to see a more ambitious budget, but said it marked only one area of the administration's decarbonization plans….

On the Tuesday conference call, McCarthy urged advocates to "hype" the infrastructure package, warning that criticism may splinter support in Congress and pare down the ambition of what it does include. One advocate responded by stating: "I don't feel hyped up."

"Let's be really smart and let's just talk about how great it is to have a president that goes out as far as this," McCarthy said. "Then we'll argue and fight and debate and push amongst ourselves. But all of us will see our ideas in this. You will see what you proposed."

https://www.huffpost.com/entry/joe-biden-infrastructure-climate-spending_n_6064b288c5b6a38505e1cf02

Members of the Sunrise Movement, a youth climate group, acknowledged that the proposed bill would represent a step forward in the fight against climate change. But they argue that the legislation falls well short of what is necessary to meet the challenge we face.
In a March Bloomberg.com article, climate reporters Leslie Kaufman and Brian Eckhouse discussed the hesitations of youth organizers:
"Today I find myself caught between two truths," said Varshini Prakash, executive director of the youth climate activist group the Sunrise Movement. "This infrastructure plan is a historic step forward that would not have been possible without us," she said, referring to fellow young protesters and advocates of the Green New Deal. And yet, "so much more is needed to reach the scale of what is necessary to truly transform this country to stop the climate crisis."....

[T]o many hard-core climate activists... the bill wasn't radical enough on climate change and other urgent environmental issues. The fact that the bill contained extensions of a tax credit for carbon capture—a priority for fossil fuel-producing states like West Virginia, home of Senator Joe Manchin, a crucial Democratic swing vote on just about any legislation—stood out as proof that the administration was addressing climate change only superficially.

"The carbon capture people are really happy," said Brett Hartl, government affairs director at the nonprofit Center for Biological Diversity. "They are getting even more boondoggles and tax credits for things that don't work in the real world."

[Chair of the Congressional Progressive Caucus, Representative Pramila] Jayapal [D-WA] also reminded Biden that during the campaign he'd committed to $2 trillion over four years to address climate change, not the decade he's now proposing.

Many of the criticisms were summed up in a statement from Greenpeace USA. "The president's ambition in this moment does not meet the scale of the interlocking crises facing our country," the group said. "It is not enough to go back to normal."

https://www.bloomberg.com/news/articles/2021-03-31/for-climate-progressives-biden-s-2-25-trillion-isn-t-enough
 
Sunrise has seized the moment and held rallies across the country on April 7th demanding that members of Congress sign onto their Good Jobs for All Pledge, which calls for $10 trillion in infrastructure investments and guaranteed jobs for all. For the future, local Sunrise chapters plan continued protests at the offices of elected officials.
 
For Discussion:
 
How much of the material in this reading was new to you, and how much was already familiar? Do you have any questions about what you read?
According to the reading, how will President Biden's infrastructure bill address climate change?
 
How have some youth organizers reacted to the infrastructure proposal?
 
What is "carbon capture," and why is it a priority for fossil fuel-producing states?
Do you think activists should follow the White House's suggestion to "hype" Biden's proposal as a valuable step forward? Or do you think activists should focus on pressing for the much stronger measures they believe are needed to head off catastrophic climate change?
 
---

Reading Two
Young People Taking on Local and International Climate Fights
 
As the struggle to shape the infrastructure bill continues, other fights over the future of the environment are taking place at the international and local levels. On March 19, youth activists all over the world relaunched the Fridays for Future movement, the international climate justice movement sparked in 2018 by teenager Greta Thunberg, whose example popularized the tactic of young people going on strike to demand stronger government action on climate.
Climate reporter Lili Pike covered the relaunch actions in a March article for Vox:
On Friday, [March 19] Filipino youth activists stood outside a gleaming office tower with a giant, game show-style check. On it was the amount of financing the multinational bank Standard Chartered has provided to coal companies in the country since 2018, stamped red with the word "cancelled."

This protest outside the bank's Manila offices was one of hundreds held in 68 countries on March 19, organized by Fridays for Future, the youth climate activism movement started by Greta Thunberg, an 18-year-old Swede. This time, kids, teens, and adults showed up on the streets and on screens to call out world powers' "empty promises" to cut greenhouse gas emissions….

As part of their latest campaign, the activists are highlighting a new scientific framework for inspecting whether net-zero targets are "empty" or impactful. This could inform future protests to hold companies and countries accountable for their new targets.

"Scientists clearly state that what we need isn't meaningless net-zero targets filled with loopholes — what we need are transparent, legally binding targets that take in account the aspects of justice and equity," Nicki Becker, a youth climate activist with Jovenes Por El Clima in Argentina, said in a statement to the press….

Filipino activist Jon Bonifacio reported that the protests targeting the bank on Friday were successful, with activists turning out across the country's three major island groups for the first time. A bank representative came down to meet the protesters outside the Manila office and accepted their letter of demands to divest from fossil fuels.

https://www.vox.com/2021/3/20/22340607/climate-change-strike-greta-thunberg-fridays-for-future-net-zero-emissions
 
Even as young people rallied across borders, students also highlighted the local impacts of fossil fuel projects that are exacerbating the climate crisis. On April 1, 2021, Indigenous youth activists gathered in D.C. to demand that President Biden reject the expansion of fossil fuel pipelines. "We came to D.C. to give the fossil fuel snake back to the U.S. We don't want the pipelines you snaked through our communities without our consent," said organizers. They engaged in the symbolic killing of a 200 foot "black snake" and delivered over 400,000 petitions during the day of action.
Many of those present came from a local movement in Minnesota that has been in a long battle against a pipeline that would carry nearly a million barrels of oil a day from Alberta, Canada.
Reporter Zoë highlighted the work of these Indigenous youth organizers in an article for the Minneapolis Star Tribune:
Steps away from the construction of the Line 3 oil pipeline in Cloquet, a handful of tents and lawn chairs surround a campfire. With temps in the single digits, Alex Golden-Wolf propped her feet up on the bricks surrounding the fire to keep them warm.

Golden-Wolf, who is Ojibwe, quit her restaurant jobs in the Duluth area to move to this piece of land the campers call Camp Migizi, or bald eagle in Ojibwe. They describe themselves as land and water protectors, fighting the pipeline they believe will harm the environment for their generation and future ones….

The campers are part of a movement of dozens of young people across the state, from Indigenous groups on the front lines in northern Minnesota to a group of activists in the Twin Cities trying to stop the pipeline in court. Line 3 crosses land where the Ojibwe have rights to hunt, fish and gather wild rice and other plants, the result of treaties signed in the mid-19th century…..

The protesters want President Joe Biden to stop the pipeline, similar to his recent action revoking a presidential permit for Keystone XL pipeline, and they're joined by leaders including Rep. Ilhan Omar, who called on the president to block construction. To do that, Biden would have to cancel the U.S. Army Corps of Engineers' water crossing permit granted in November….

When they first came together in 2017, these young people were all between the ages of 15 and 23, with shared concerns about the impacts of both Line 3 and climate change, said Brent Murcia, a former member who now serves as the group's student attorney. "Now, we've gotten older, because it's been a long fight," he said.

https://www.startribune.com/youth-led-groups-dig-in-on-enbridge-line-3-construction/600026405/

Organizers in Minnesota vow to persevere; meanwhile, young people all over the world are planning future waves of action to insist that the fight against climate become a defining issue for governments to confront as they emerge from the pandemic.
For Discussion:
How much of the material in this reading was new to you, and how much was already familiar? Do you have any questions about what you read?
According to the reading, what are some of the demands of youth activists in the Biden era--at the local, national, or international levels?
What types of tactics are young people deploying in their efforts to combat climate change? Have you seen other methods or approaches not mentioned in the reading? Which ones seem most compelling to you?
What are your feelings about young people protesting against climate change? Could you see yourself playing a role in the youth climate justice movement?
 
Have there been activities or campaigns in your area around climate change, and if so, what have they focused on? If you don't know, how could you find out?
Research assistance provided by Akin Olla.