Introduction
Part of the challenge of climate change is that the apocalyptic consequences of our carbon use are emerging slowly and globally, rather than in a single newsworthy disaster, making it difficult to muster the vision and motivation to fight it. Fiction exploring the possibilities of a changed and changing climate can be a powerful way to make these abstract futures more immediate for ourselves and our students. (Read about my experiences teaching climate fiction.)
Most climate fiction, or cli-fi, paints a bleak future. However, some authors also imagine ways that humanity might manage to respond positively to the crisis. Below, we offer two lists of literature and novels to consider reading and discussing with students.
The first list includes short stories, novels, and poems that take the more positive, visionary approach to the subject of climate change, focusing on fighting and adapting to climate change. Through envisioning cultural tools and social strategies for transitioning to a post-carbon world, these stories offer inspiration and guidance for how we might address our very real problems-- not just through magical new technology, but through cultural shifts that make use of the technology we already have. These texts could be used for whole-class reading, and could enrich a larger unit on climate change or even lead to students researching and creating their own artistic explorations of futures altered by climate change. Questions for discussion follow each listing.
The second list includes various other climate futures for students interested in reading further. It, too, covers YA and adult fiction that is focused on the social and practical issues around climate change. Many of these latter texts focus on vividly conveying the emotional weight of various disasters that come with climate change.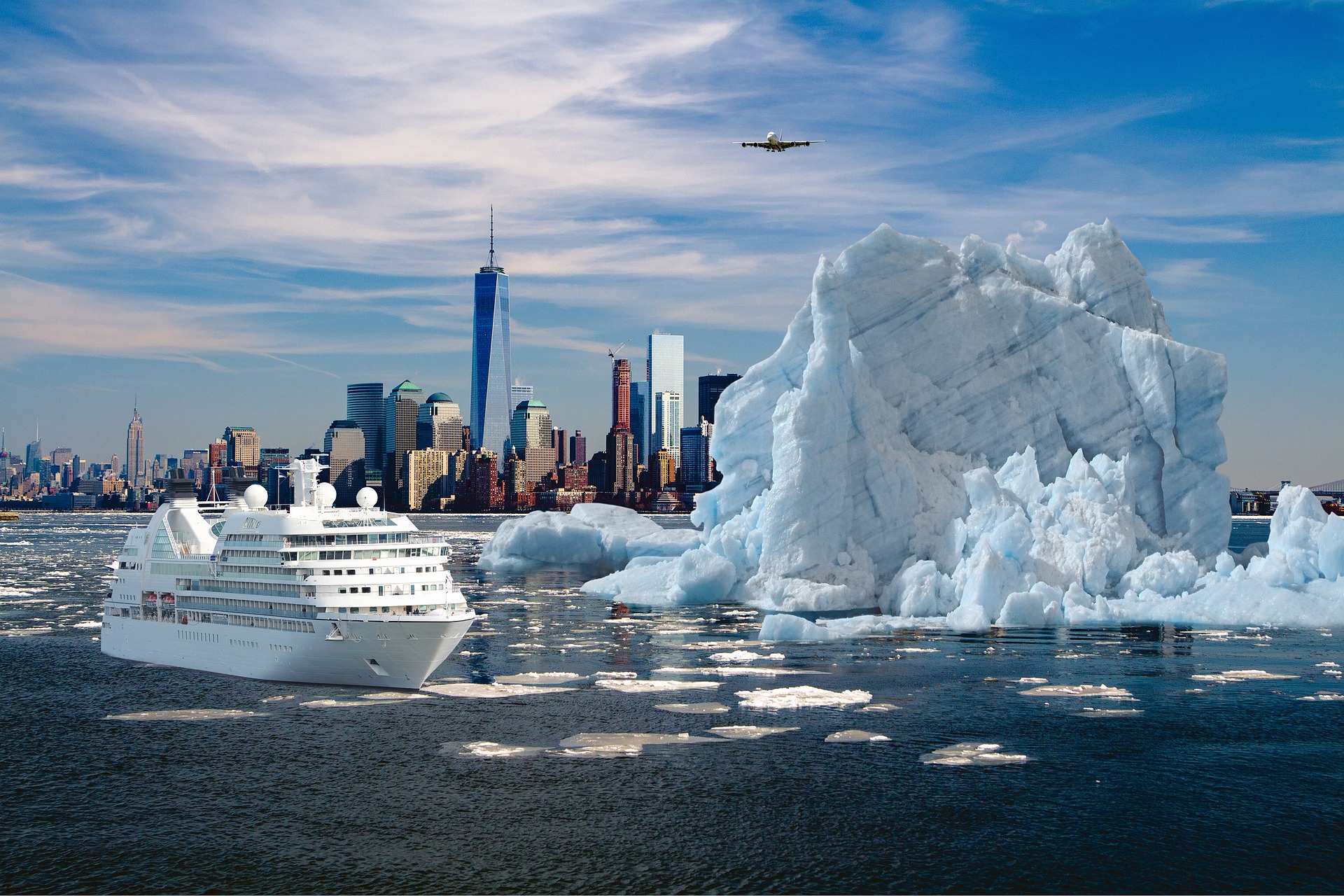 ---

Climate Change Poetry and Fiction for Social Change 

Poetry
Climate poetry, much of it by teens themselves, can make an excellent model for students' own protest writing. A poem might feel less daunting for an exploratory venture into teaching climate fiction than an entire novel or short story, or you might like to pair poems with a longer text. Like the rest of this first list, these works focus on the social aspects of climate change. See more climate poetry from Climate Speaks at https://www.climatespeaks.org/performance.
"Let's Make More Minutes Count" by Solli, a 14-year-old Australian slam poet, appeared in 2019 as a video performance 
Discuss: How does Solli use internal rhyme and rhythm? Does the poem give him power? Why or why not?
"On Climate Denial" by high school senior Jordan Sanchez appeared at the first Climate Speaks event in 2019, where NYC teenagers performed their own original climate poetry. Any of the poems from this event can serve as powerful examples for young writers, such as those by Elizabeth Shvarts and Andreas Psahos.
Discuss: Why do people deny climate change? What are some of the differences and similarities between NYC and San Juan in Sanchez's poem? Why does she juxtapose these images?
"Break Free" by Xiuhtezcatl Martinez, a teenage activist, was published as the title track of a rap album in 2018.
Discuss: How does Martinez connect his Indigenous identity with his climate justice fight?
"Earthrise" by Amanda Gorman. Gorman, the first Youth Poet Laureate of the United States, delivers her poem here. 
"Dear Matafele Peinem" by Kathy Jetnil-Kijiner was published in Iep Jāltok: Poems from a Marshallese Daughter (2017). The poem contrasts fear for her child's future with hope that change can happen. Jetnil-Kijiner reads the poem aloud in a video essay that makes its imagery and rhetoric extremely vivid and accessible to middle school and high school readers. Many other relevant poems by Jetnil-Kijiner include "Utilomar," "Tell Them," and "2 Degrees."
Discuss: How does this poem use figurative language to convey its emotional weight?
---

Fiction
Dry, by Neal Shusterman and Jarrod Shusterman (2018). What happens when the water suddenly runs dry? This powerful YA dystopia follows a group of California teenagers as their lives suddenly go from normal to a horrifying fight for survival. All it takes is a drought bad enough that a few states upstream seize the remaining water for themselves, and California starts quietly losing its mind. The most striking part of this book is how long it takes for everyone to ealize that everything has changed. It's so easy to deny and ignore what's happening in the quiet background of life, until suddenly you can't anymore. 
Discuss: What are some of the most surprising ways that the lack of water changed life for the characters in this story? What are some of the most important reasons people survive or don't survive in this story? What advice do you think the characters at the end of the book would give their past selves at the beginning of the book? What advice would the characters give us today?
"Sunshine State," by Adam Flynn and Andrew Dana Hudson, in Everything Change Volume I, edited by Milkoreit, Martinez, and Eschrich (2016, free download at https://climateimagination.asu.edu/everything-change/). This short story imagines a secret solarpunk collective in the Everglades, working to adapt humans and ecosystems to climate change as the next big storm hits Florida.
Discuss: What legal, social, and economic barriers exist to transitioning away from our current fossil-fuel system?  What tools and strategies help overcome those barriers in this story?
The Weight of Light, edited by Joey Eschrich and Clark A. Miller (2018, free download at https://csi.asu.edu/books/weight/). The short stories in this collection (from Arizona State University's Center for Science and the Imagination) envision the social possibilities and challenges of different kinds of solar power. Stories include the following:
"For The Snake of Power," by Brenda Cooper. The story explores the conflict between one young woman's work at a public solar plant and her origins in the low-income community her company serves. 
Discuss: Climate change has a much harsher impact on low-income people than on the wealthy. What does fair energy distribution look like? What can individuals and communities do to make sure energy is fairly distributed?
 
"Under the Grid," by Andrew Dana Hudson. The story is set in a decaying city under an Emergency Government, where solar infrastructure is funded by foreign investors, and local collectives manage people's compliance with the new energy laws. 
Discuss:  As we make the collective transition to green energy, is there still room for individual freedom and choice? What are the advantages and disadvantages of individually owned solar in the story? How does the story represent the U.S. economy compared to China, and why?
 
"Big Rural," by Cat Rambo. The story explores the challenges for a rural community as coal mining jobs disappear and a new solar plant arrives, bringing few new jobs and altering the landscape.
Discuss: What special cultural and economic challenges do rural communities face in transitioning away from fossil fuels?  Who should make major energy decisions such as whether to build a huge solar facility in a particular area: corporations, the federal government, local communities, or some combination of the three? What are the pros and cons of each?
 
"Divided Light," by Corey Pressman. The story is about two competing communities in a desert after the end of fossil fuels. A city has built a giant corporate sunshade over itself, while nearby lives an artistic techno-utopia oasis in the desert, embedding biopowered solar panels into every self-sustaining machine, organism, and building.
Discuss: what might be the artistic, cultural, and practical merits of these two different approaches to powering our lives?
 
Loosed Upon the World: The Saga Anthology of Climate Fiction, edited by John Joseph Adams (2015) includes two dozen stories. Several stand out for their explorations of the social causes of climate change and efforts to stop it.
"The Precedent" by Sean McMullen (2010). This extremely disturbing dystopian story is about how the post-tipping-point generation takes revenge on those responsible.
Discuss: How should we balance individual and collective responsibility for climate change? Who is responsible for the suffering of future generations, and should that suffering be punished?
 
"Truth and Consequences," by Kim Stanley Robinson (2015), excerpted from The Green Earth a.k.a. the Science in the Capital trilogy. The story depicts scientists and politicians working to fight climate change with massive terraforming projects after natural disasters strike the world.
Discuss: What would it take for our governments and industries to make similar changes today? Do these fictional visions give us energy to make them reality, or just allow us to relax and do nothing?
 
"Entanglement" by Vandana Singh (2014). This hopeful novella tells five interconnected stories of people in the near future fighting climate change in different ways, from the Arctic to India to America.
Discuss: Can small actions have large effects in the world? How is this novella like an ecosystem itself?
 
"The Day It All Ended" by Charlie Jane Anders (2014). In this hilarious satire of consumer culture, a hip tech company has a secret plan to save the world without anyone noticing.
Discuss: Do you think that people would be more likely to spend money on frivolous gadgets than carbon-capture technology? How or why might that happen?
 
"The Tamarisk Hunter" by Paolo Bacigalupi (2006) is also at https://www.hcn.org/issues/325/tamarisk-hunter-Bacigalupi. The story is about rural life in a water-starved American Southwest of the near future.
Discuss: How do Lolo's individual motivations and actions conflict with the collective goals of those paying him? Is that conflict inevitable? How are conflicts over water rights already shaping people's lives today?
 
"Time Capsule Found on the Dead Planet" by Margaret Atwood (2009) is also at https://www.theguardian.com/books/2009/sep/26/margaret-atwood-mini-science-fiction. This 2-page letter from an extinct human race offers no explicit strategies for averting climate change, but its compactness makes it useful as a quick in-class read.
Discuss: Why is it important in the story that the gods had horns, beaks, or feathers? How did money become a god? Why did humans create deserts? What economic, cultural, or spiritual changes would need to occur for us to prevent the outcome in this story?

"Factory Air," by Omar El-Akkad, is one of four climate fiction stories in the 2019 Climate Fiction issue of Guernica. Of those stories, it is the one most concerned with the problem of how to fight the large-scale economic structures causing climate change.
Discuss: Why does Cassie make the decision she makes at the end of the story? Would you make the same decision or not, and why?

The Carbon Diaries 2015 and The Carbon Diaries 2017 by Saci Lloyd (2009-2011). This YA novel and its sequel humorously depict a teenage girl and her family dealing with electricity rationing and carbon taxes in London after extreme global weather events in the near future.
Discuss: How would similar laws change your life? What would you spend your carbon points on? How bad would climate change have to get before politicians would be willing to enact such laws? What would it take to convince the public to accept them? How do selfishness and fear worsen the energy crisis? A discussion guide from the publisher is here: http://www.holidayhouse.com//docs/CarbonDiariesComboGuide.pdf

New York 2140 by Kim Stanley Robinson (2017). This long but engaging novel imagines New York after fifty feet of sea rise has put Lower Manhattan underwater, and creatively (and often optimistically) explores the ways that buildings, food, transportation, politics, and economics might change in a new world after carbon, through a cast of characters including homeless water-rat kids, an airship viral video star, a self-important financial trader, and more.
Discuss: How does our economic system encourage climate change, both now and in this novel? What would it take to enact the renewable energy changes in the novel sooner? In what ways is life in this novel surprisingly like life today? How is it different? How would your life change if the sea rose fifty feet?
The Ministry for the Future also by Kim Stanley Robinson (2020). This novel imagines life in the 21st century as the effects of climate change-- starting with a deadly heat wave in India-- slowly begin to change the social order on earth from the bottom up. The title refers to a new international organization working to enforce the Paris climate agreements, nicknamed "Ministry for the Future" because it is fighting for future generations. The book offers a terrifying but ultimately optimistic view of what that fight might look like and how it might turn out. 
Discuss: What solutions or actions described in this book to fight climate change do you think are most plausible? Do you think violence in defense of the climate is justified or not? 
The Disappearing Shore by Roberta Park (2019). This is a short, mystical little novel-in-parts about our present and our future, with each layer of the story responding to the one before. In short vignettes, fictional farmers, activists, lawyers, and rock stars meditate on the natural world and the human forces of emotional/cultural inertia as climate disaster approaches. The final portions of the book ask what kind of new life humanity/nature can make in the ashes of trauma. Purchase the ebook from the author here: https://robertapark.wordpress.com/the-disappearing-shore/. 
Discuss: Which of the characters' stories in Part 1 do you most identify with? Which perspectives seem most odd or confusing to you? What changes have happened to humans between Part 1 and Part 2 of this story? In what ways might those changes be bad? In what ways might those changes be good? What has stayed the same?
---
Further Reading on Climate Change for Adults & High Schoolers
This listing includes especially challenging visions of climate futures for teachers or students interested in reading further.

Earthseed series (Parable of the Sower and Parable of the Talents) by Octavia Butler (1993-1998). These two novels, groundbreaking early YA dystopias, feature a young woman who journeys in a post-apocalyptic world to spread the message of a new religion in the face of relentless change.

Ship Breaker, The Drowned Cities and Tool of War by Paolo Bacigalupi (2011-2017). This YA series depicts a post-apocalyptic world of radical inequality after sea rise and warming. The novels explore similar themes as some of Bacigalupi's adult stories and novels, including The Water Knife (2016), which is about battles over water in the American Southwest post-global warming.
Flight Behavior by Barbara Kingsolver (2012). This poetic novel looks at climate change through the perspective of a rural Appalachian woman who finds monarch butterflies in the forest, after climate change has pushed them out of their native Mexico. This book deals explicitly with the contemporary problem of climate change denial.
Orleans by Sherri Smith (2013). This YA dystopia depicts a post-hurricane Gulf Coast where a blood disease has restructured society into tribes based on blood type. It explores issues of rebuilding communities and the power of technology vs. the power of relational bonds.
Clade by James Bradley (2015). This interconnected series of brief snapshots tells the epic story of three generations of one family as they experience the slow burn of climate change over time. It examines the intergenerational relationships and emotions that emerge from long-term change of this magnitude.
The Collapse of Western Civilization: A View from the Future by Naomi Oreskes and Erik Conway (2016). This short book is not really a novel: it uses a non-fiction style as if written from the perspective of a historian four hundred years from now, chronicling how climate change destroyed civilization. In this imagined future, democracies cannot muster the political will to act against climate change in time, and only dictatorships like China respond fast enough to save their citizens.
Loosed Upon the World: The Saga Anthology of Climate Fiction, edited by John Joseph Adams (2015). Besides the stories listed above, this large volume explores human relationships and emotions in the context of climate change, including standout tales about a Midwestern family facing desertification ("A Hundred Hundred Daisies" by Nancy Kress), ecosystem destruction in the Pacific Northwest as humans move there to escape climate change ("The Myth of Rain" by Seanan McGuire), journalists covering drought refugees in Arizona ("Shooting the Apocalypse" by Paolo Bacigalupi), a family struck by a tropical pandemic ("Outer Rims" by Toiya Kristen Finley), an environmentalist fighting technological solutions to climate change ("Eagle" by Gregory Benford), a marriage crumbling along with dikes against the storms ("The Netherlands Lives With Water" by Jim Shepard), and a meditation on denial as water rises ("Quiet Town" by Jason Gurley).
Everything Change Volume II, edited by Angie Dell and Joey Eschrich (2018, free download at https://climateimagination.asu.edu/everything-change-vol-2/) includes "Monarch Blue" by Barbara Litkowski, in which the extinction of pollinating insects has left the job of pollinating to the poor, and "The Last Grand Tour of Albertine's Watch" by Sandra Barnidge, which illuminates the economic and social tensions of disaster tourism. Everything Change Volume I, which begins with "Sunshine State," listed above, also includes "On Darwin Tides" by Shauna O'Meara, in which a young girl struggles to survive without legal papers in a rapidly warming Malaysia, and "Victor and the Fish" by Matthew S. Henry, in which wildfires slowly destroy not only fish but also the communities built around them.

Fragment by Craig Russell (2016) starts out as an eco-thriller about a collapsing Antarctic ice shelf, but develops into a tender exploration of interspecies communication and solidarity. Of the dozen or so narrators Russell weaves together, the most interesting is a blue whale.

After the Flood by Kassandra Montag (2019) imagines a scenario in which water rapidly covers the world and dramatic social change ensues, as a mother searches the increasingly lawless ocean for her stolen daughter. While it's scientifically unlikely for the American Midwest to be flooded anytime soon, this novel's depiction of the rapid unmooring of our modern society and way of life is devastating.

The Overstory by Richard Powers (2018) makes trees the unexpected protagonists through a dazzling use of symbolic connections, deep-dive science, and the epic interwoven timelines of multiple human and arboreal characters. This book turns the ordinary tree outside your window into an alien lifeform living on an entirely different timescale.
American War by Omar El Akkad (2017). When I first read this book several years ago, I thought its premise of a second American civil war, fought this time over the right to burn fossil fuels, was a little far-fetched. Who would be willing to fight and die for that? But as climate change continues to worsen, and as science denialism shows itself to be far stronger than even immediate threats to human life, it becomes increasingly clear that any realistic climate action America could take would be either too little/ too late, or violently opposed by much of the population. What comes after that? This book is less focused on climate change than on the refugee crisis and political turmoil that it would cause. Let's not flinch from considering it all.

The Broken Earth trilogy by N.K. Jemisin (2015-2018), including The Fifth Season, The Obelisk Gate, and The Stone Sky. This series depicts a fantasy world in which society is shaped around enduring recurring geological disasters, an allegory of the social and physical devastation of climate change. It also explores how power shapes racial and social identities, tying into issues of environmental justice.

The Interdependency Series (2017-2020) (The Collapsing Empire, The Consuming Fire, The Last Emperox). This ongoing series by John Scalzi explores a far-future space empire that has thoughtlessly developed around a natural phenomenon it exploits without fully understanding it. When scientists predict that cataclysmic change is coming, the profit motive makes it difficult for society to take the drastic action needed to stave off disaster. While it's not explicitly about climate change, the allegory is clear and could help students analyze the present moment. Be aware: mild sexual content and excess swearing.
Cloud Atlas by David Mitchell (2004) is a difficult but rewarding read, told through six different stories, each embedded within the last and successively jumping forward in time. Collectively, they deal with how power inflicts violence on the powerless and how communities of empathy might develop against cultures of greed. Ecological devastation is a central theme, though war and nuclear weapons are more direct causes here than climate change.
If you're interested in post-apocalyptic visions, you may also like Earth Abides by George Stewart (1949). Though its initiating apocalypse is a pandemic, rather than climate change, its central focus is the reciprocal relationship between people and their world, and how each changes the other. After the majority of people are gone, how does the earth change? And how do those changes, in turn, change the people who are left? As technological knowledge fades, the story explores whether we might ultimately be happier and wiser to let much of civilization go.