Introduction

Invite students to share what they know about the history of Pride or "Pride Month" in the United States.
Ask: 
What have you heard about Stonewall? 
 
Are you familiar with Marsha P. Johnson?
 
Silvia Rivera?
 
Stormé DeLarverie?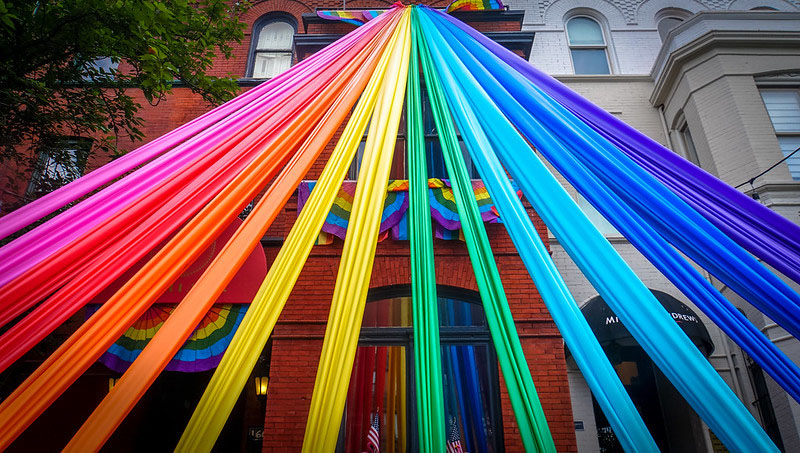 ---
3 Biographies

Share the following three biographies and images with students.  Source: GLSEN.
Marsha "Pay it No Mind" Johnson (1945-1992) was a Black trans woman who was a force behind the Stonewall Riots and surrounding activism that sparked a new phase of the LGBTQ+ movement in 1969. Along with Sylvia Rivera, she established the Street Transvestite Action Revolutionaries (STAR) in 1970 — a group committed to supporting transgender youth experiencing homelessness in New York City.
Marsha P. Johnson was tragically murdered on July 6, 1992, at the age of forty-six. Her case was originally closed by the NYPD as an alleged suicide, but transgender activist Mariah Lopez fought for it to be reopened for investigation in 2012.
Marsha P. Johnson is now one of the most venerated icons in LGBTQ+ history, and has been celebrated in a series of books, documentaries, and films. Her actions and words continue to inspire trans activism and resistance, and will continue to do so well into the future.
Sylvia Rivera (1951-2002) is one of the most notable Stonewall veterans and fierce trans activists of the late twentieth century. Sylvia Rivera refused to accept conformity to the status quo, constantly calling out the mainstream "gay rights" movement for being complacent in perpetuating systems that continued to specifically disenfranchise people of color. Even as the Gay Liberation Front and the Gay Activists Alliance started gaining force and momentum post-Stonewall, Sylvia Rivera did not back down.
The most popular video of Rivera is her fiery speech at the NYC Christopher Street Liberation Day Rally in 1973 where she stressed the criticality of supporting trans people, people of color, and low-income people, particularly those who are in jail or experiencing housing instability. She fought hard against the exclusion of transgender people from the Sexual Orientation Non-Discrimination Act in New York and was a co-founder of the Street Transvestite Action Revolutionaries (STAR) — a group committed to providing shelter to trans youth experiencing homelessness in New York City. Sylvia Rivera continued to be an important player in trans activism until she passed away in 2002.

Stormé DeLarverie was a biracial butch lesbian "drag king" entertainer and one of those credited with starting the Stonewall Rebellion that launched the modern LGBTQ liberation movement. She died in 2014 at the age of 93. According to her obituary in the New York Times:
No one questions whether Ms. DeLarverie was there on June 27, 1969, the night the police raided the Stonewall Inn, a gay bar, setting off protests that helped start the gay rights movement and are now commemorated during New York's annual Gay Pride Week. But was she the cross-dressing lesbian whose clubbing by the police helped set the chaos in motion? Some witnesses have said yes, others no….

Ms. DeLarverie was a member of the Stonewall Veterans Association and a regular at the pride parade, but she rarely dwelled on her actions that night. Her role in the movement lasted long after 1969. For decades she was a self-appointed guardian of lesbians in the Village.
---
Who triggered the Stonewall Rebellion?

The historical truth is complex, and witnesses disagree about which individual triggered the uprising, when queer people fought back against harassment at New York City's Stonewall Inn on June 28, 1969.
The most commonly named possibilities are all queer people of color: DeLarverie and two self-professed "drag queens": African American Marsha P. Johnson and Latina Sylvia Rivera. All three have denied throwing the first punch or brick at the rebellion.
And yet each of them has been called the Rosa Parks of the LGBTQ community. They have come to symbolize the moment when the LGBTQ community stopped accepting abuse and claimed the right to exist.
---
Video: The Stonewall You Know is a Myth - and That's Okay

Share with students this 10-minute video from the New York Times:
The Stonewall You Know Is a Myth. And That's O.K.
Then invite students to share:
What responses do you have to the video?
 
Stonewall has been called a "riot," a "rebellion," and a "revolution."  How would you describe it?

 
---
Reflections 

Ask students: 
Where can we see the actions at Stonewall reflected in 2022? 
What is the value of civil disobedience?
What are the possible consequences? 
Why is the LGBTQ+ community still fighting against injustice?
What does that look like in 2022?
---
Closing

In a go-round, ask students to respond to this prompt:
What is one thing you are proud of?
---
Resources:

https://qspirit.net/storme-delarverie-stonewall/
https://www.glsen.org/activity/glsen-lgbtq-history-cards-sylvia-rivera
https://www.glsen.org/activity/glsen-lgbtq-history-cards-marsha-p-johnson
https://www.nytimes.com/2014/05/30/nyregion/storme-delarverie-early-leader-in-the-gay-rights-movement-dies-at-93.html