I've been complimented on my English about as often as I've been asked why I don't speak Spanish.  In high school and college I was frequently labeled "exotic."  My curly hair is mystifying to people everywhere, it seems, as I am constantly asked a stream of questions about it.  Is it really just like that?  How do I control it?  Why don't I straighten it?  
I always thought the questions were bizarre, but I didn't realize growing up that this was something anyone else ever experienced. In general, I assumed that people asked me these things out of genuine curiosity.  Most often the people asking were strangers, or they had just met me. 
 
Over the years I have come up with dozens of responses (with varying levels of detail and snark). Even though I assumed the best of the people around me, it was exhausting.
At the time,  I didn't know what "micro-aggressions" were.  I wish I had.  I wish it was something that we had discussed in school.  Maybe then I might have been able to explain why I found it so frustrating every time someone asked, sometimes in my Spanish classes, "but why don't you speak Spanish?"
 
Some New York City high school students are talking about it. Amanda and Lupe, the two high school students below, facilitated a circle about micro-aggressions at their school as part of our Restore360 Program. For more, see the video SheKnows (below), which features teenage girls explaining what micro-aggressions are.  
---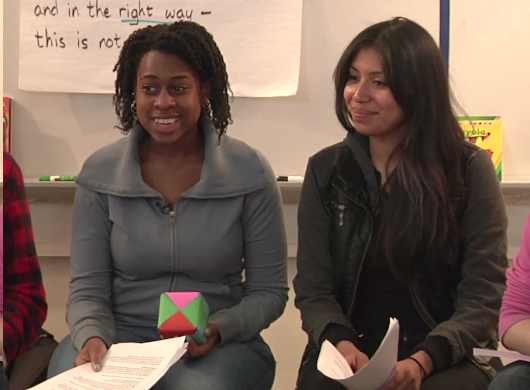 © Carolina Kroon
 
Amanda: Lupe and another classmate of ours, Kendall, they did a circle on micro-aggressions And when we did that circle it was like—I never knew there was an actual name for that...that if I say to Lupe: you have to speak Spanish because you're Spanish, that I'm actually like doing something. That there's an actual term for that
 
Lupe:  So micro-aggressions are the little things you say...the things I've been told, "you're Hispanic—you're Mexican, you have a big family."  Or "you're Mexican, you know the Mexican parties."  Just because of the culture or gender or your sexuality...or any category you fit in, they assume these things.  And I remember when we first learned about it, and we decided to make a circle about it.  When we did the circle, we went around, I was amazed at how many people have been through that.
 
Amanda:  They realize that not only have they experienced micro-aggressions, but they have also expressed micro-aggressions themselves. For me that was [a new] awareness, something I've tried to stop. For me, it was important to bring up micro-aggressions [in our circle] because it's something we do on a daily basis that we aren't aware of.  
 
---
---
Sara Carrero is Morningside Center's Communications Associate, social media honcho and database chief.