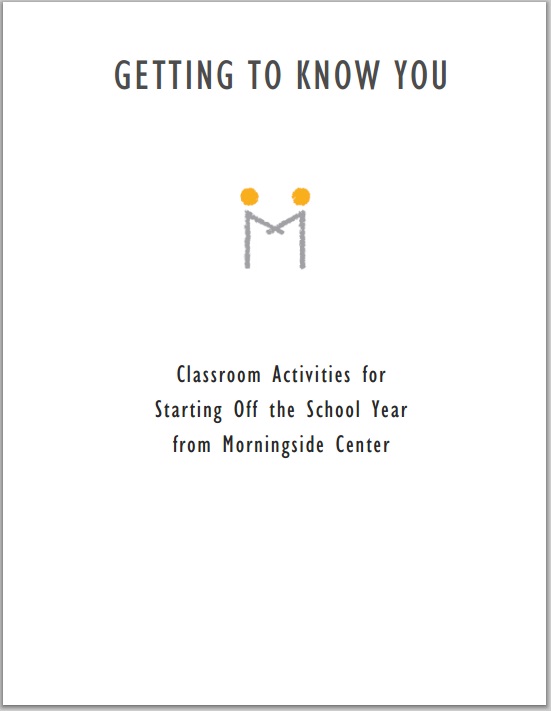 Now - the beginning of the school year - is the ideal time to establish a caring community in your classroom.
See our 28-page pdf booklet GETTING TO KNOW YOU  for a wide range of  activities will help you use social and emotional learning strategies to get the year off to a good start.  Also check out the stand-alone introductory and community-building activities below from the TeachableMoment section of our website.  
We hope you and your students have a great year!
---
10-MINUTE COMMUNITY-BUILDERS  
Two 10-minute activities to build community in your classroom, particularly at the start of the school year.
 
FIND SOMEONE WHO  
This fun activity is a quick way for students to connect with one another and overcome shyness.
THE HEART STORY  
The Heart Story is powerful. It helps students understand the effect of "put-downs" and think about how to express "put-ups."
INTRODUCTIONS: GETTING THE YEAR OFF TO A GOOD START  
In this activity, students share their names and a high point of their summer; learn a little about their similarities and differences; and begin considering what kind of community they want to create in their classroom.
CREATING A KIND CLASSROOM: A LESSON TO START THE NEW SCHOOL YEAR  
Students think about how to create a kind, caring classroom using an interactive poem and a drawing activity. 
 
VALUES: A CIRCLE TO START THE NEW SCHOOL YEAR  
An introductory Circle invites participants to consider values that are important to them and the group.