When I was in college, I practically lived in the painting studio. But I didn't keep it up after I graduated. When I tried to get back into it I discarded canvas after canvas, thinking the next project would surely be easier. After a while, I convinced myself that I had forgotten how to paint. Maybe I just wasn't good at it anymore.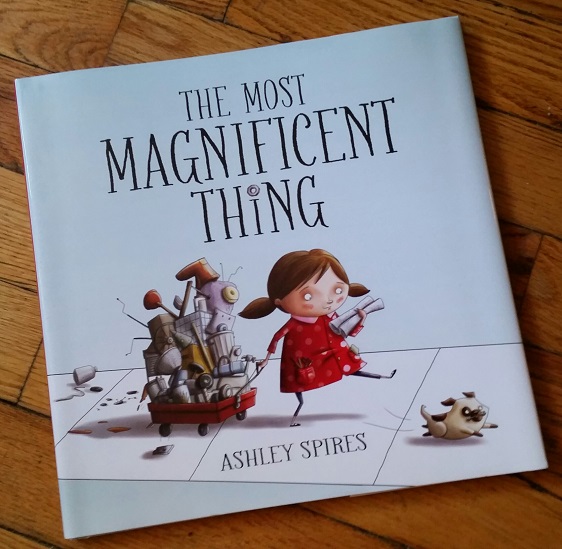 A few weeks ago a friend told me about this children's book (for grades preK-2), The Most Magnificent Thing by Ashley Spires, and I made a note to get a copy.  Then we had a staff meeting here at Morningside Center where we discussed growth mindset and persistence, and I remembered that I wanted the book.  I finally went out and got it. 
 
The Most Magnificent Thing is a story about a little girl who has an amazing idea. She gets all the items she needs and gets to work. And then everything goes wrong, and she scraps the thing she was building. But she keeps on trying. If you've ever had trouble bringing a wonderful idea from your head out into the world, you'll probably relate to this book immediately.
Basically, this girl would be an awesome student. When she doesn't succeed the first time, she continues to struggle and work the problem from different (sometimes fuzzy) angles. This is the kind of persistence we're trying to instill in students. 
 
When I first sat down to write about The Most Magnificent Thing, it took me right back to my post-college days. My biggest problem had been that instead of trying different approaches to solving my painting challenge, like the little girl in the story, I kept walking away.  I had forgotten that back in college, I'd put countless hours into each image to make it come out the way I'd wanted.  (Paint is kind of magical that way - you can cover mistakes as you go and it's easy to forget they were ever there. )
 
Eventually I picked a painting to copy and committed to working until I was happy with it. I struggled.  I took a picture of my unsatisfactory efforts on day 1. But I continued.  Things went a little better on day 2.  I took another picture and compared the two.  Without teachers and other students to urge me on, I needed a way to measure progress.  For me it was being able to look back at the change from one day to the next. 
 
In the book, the little girl's project continues to go awry, she gets mad, and gives up. She goes for a walk.  After getting a bit of distance, and a cookie, she realizes that her previous attempts have not really failed.  In fact, each "failure" included some element that succeeded. Each was a step toward new understanding.
 
Sometimes all the mistakes are what make success possible.  Every layer of my painting had various things in it that I considered mistakes. The trick was to keep the parts that were working and paint over the ones that weren't. Now I rarely go more than a week without painting, and that particular piece is still hanging over my bed. 
 
In the end, the steps you take in solving a problem are just as important as the final product —maybe more important. Because by taking those steps, you are developing a process you can apply to everything else that you learn.  This kind of struggle should be encouraged in schools.  Effort and improvement should be noted and celebrated. 
 
Like me, the little girl in The Most Magnificent Thing eventually recognizes all the good little things in each of her failed creations. And then she finally knows how to make her magnificent thing.
---
Book Information:
The Most Magnificent Thing 
Written and Illustrated by Ashley Spires
Preschool through 2nd Grade
More information: http://www.kidscanpress.com/products/most-magnificent-thing
---
Sara Carrero is Morningside Center's Communications Associate, social media honcho and database chief.