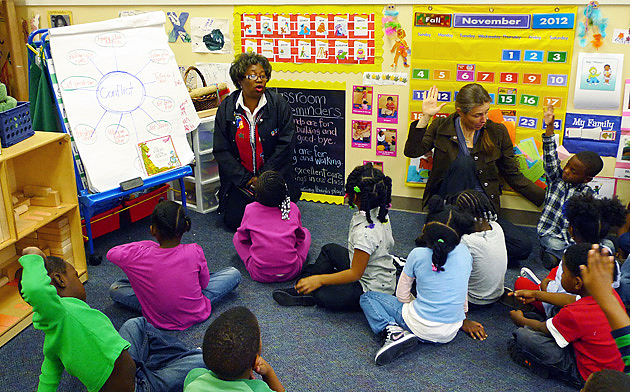 A community approach
Morningside Center is lucky to be a partner in a fascinating project with the Dunbar Elementary School in Atlanta, Georgia, supported by the Annie E. Casey Foundation.  The foundation has initiated what it calls "a place-based effort to improve conditions for children and families" in the school – and the entire surrounding community, a low-income, African-American section of Atlanta. The project includes an early learning center, a neighborhood preservation initiative, a job development center, and a drive to improve academic achievement at the school. 
Our contribution:  helping kids develop the social and emotional skills they need to thrive. Over several years (with new grades added each year), we are training and coaching every teacher in the school to teach The 4Rs (Reading, Writing, Respect & Resolution), our literacy-based curriculum. Our staff developer, Marieke van Woerkom, is also working with parents at the school: She facilitated and now supports workshops to help parents communicate better with their kids. A peer mediation/ peace helpers program is next. 
"What's so awesome about this project is that the work we're doing – social and emotional learning – is just one piece of a much larger endeavor," says Marieke,  who has been traveling from New York to Atlanta every month to support the Dunbar teachers in teaching The 4Rs. "It's a recognition that you can't change things for kids just inside the school – you need the whole community."
As a result of this comprehensive approach by the Casey Foundation, Morningside Center, and other partners, parents are getting invaluable support and feel connected to the school, teachers have a common language and goals, and children get extra academic support and a more consistent message of caring and respect.
 
Ms. Solomon solves the problem

For Ms. Solomon, a preK teacher at the Dunbar school, The 4Rs has made a huge difference. In fact, she says, "it has completely transformed my classroom." Marieke and Ms. Solomon both say some of her students first came to school with some challenging behavioral problems. "They would kick, hit, spit.  I really didn't know how to deal with it," says Ms. Solomon. 
At first, Ms. Solomon was not sure The 4Rs would connect with the kids. The 4Rs is built around reading and discussing children's books, then practicing social and emotional skills that relate to what happened in the book. But were these books the right starting place for her students?  Ms. Solomon worried that her students wouldn't understand the offbeat humor in the book Don't Let the Pigeon Drive the Bus.  But, she says, "They loved it. And it taught them to be able to say no without hitting or fighting." The children also understood the message in Dr. Seuss's The Foot Book, which, Ms. Solomon notes, "is a way of teaching that we are all the same, and yet different."  Overall, she says, her students are "captivated" by The 4Rs. "It's something new and different.  They like the active lessons, the stories, the hugg-a planet… "  
Fairly quickly, Ms. Solomon observed that the program was having a positive effect on the children's behavior.  So she started teaching 4Rs lessons two or three times a week—even though our model is based on just one lesson a week. The result: "My students have learned a lot of skills and they've developed a better sense of empathy and kindness."
Now, says Ms. Solomon, "I've had people stop by my classroom and ask me, 'How come your kids are so different?'"
Who has a heart?
Our work in Atlanta is part of Morningside Center's plan to scale up, to share The 4Rs program and our approach to school-wide change through social & emotional learning with school systems beyond New York City. It's been interesting to see how The 4Rs Program, developed in NYC public schools, plays with kids in Atlanta (as well as two districts in Ohio).  One story we use in The 4Rs is the Subway Sparrow. This concept was very intriguing to some Atlanta students.  (The subway? And there's a bird in it?)
One of the activities that resonates most with kids in New York is a lesson about put-downs that we call the Heart Story. In it, a little girl named Jane has a day full of putdowns, from the moment she gets up in the morning. With each putdown, the teacher rips off a little piece of a paper heart—Jane's heart. Then the teacher tells the story again, this time with the class coming up with "put-ups" for Jane, coloring in a blank heart with every put-up.
Sometime after Ms. Solomon's class took part in the Heart Story activity, one of her students was having trouble cutting something. A classmate saw the problem, and said, "Here, give me the scissors, I can help with that."  And another student said excitedly, "You just colored in Jane's heart!" And then, says Ms. Solomon, everybody started trying to say something nice so they too could color in Jane's heart.  Kids in Atlanta and New York have a lot in common.
Photo:  Ms. Solomon teaches The 4Rs to her fast-learning pre-K class, with Marieke (at right).