Research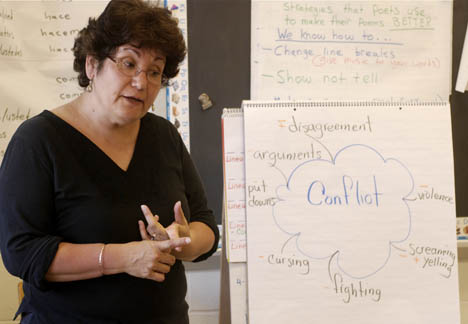 PS 24, Brooklyn. Photo © Carolina Kroon
Morningside Center is deeply committed to rigorous scientific evaluation of our programs. Two major scientific studies have found that our school-based social & emotional learning programs have a strong positive effect on students' behavior, the classroom climate, and students' academic performance.
A gold-standard, control-group study by researchers from New York University, Fordham University, and Columbia University tracked the development of children in nine New York City elementary schools that implemented the program compared with the children in nine control schools over three years (2003-2006). Children in the 4Rs schools were less aggressive, less hyperactive, and saw their social world as less hostile than their peers in non-4Rs schools. They were happier and more likely to resolve interpersonal problems competently.
What's more, children judged to be at greatest behavioral risk by their teachers had better attendance than their counterparts in the control schools and made better academic progress as rated by teachers. They also did better on standardized tests.
In addition, independent observers found significantly higher levels of overall classroom quality in 4Rs schools.
Researchers at Columbia University tracked over two years the development of students at 15 NYC public elementary schools that were implementing our Resolving Conflict Creatively Program (RCCP). Children receiving substantial RCCP instruction saw their social world in a less hostile way, were more likely to choose nonviolent approaches for resolving conflicts, and did better academically, as measured by standardized tests.
In their final report (2003), researchers concluded that they found "compelling evidence that [the RCCP] reduces aggression and violence in children and youth and enhances their classroom learning. This independent evaluation of the program shows it is relatively low in cost and not purchased at the expense of academic achievement."
Social & Emotional Learning