About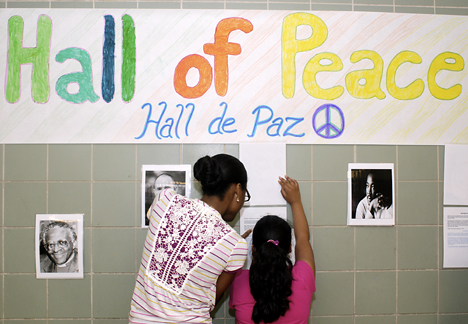 PAZ Afterschool Program students at annual Peace Festival, PS 24, Brooklyn.
Photo © Carolina Kroon
Morningside Center works hand in hand with educators to help young people develop the values, personal qualities, and skills they need to thrive and contribute to their communities—from the classroom to the world.
A national leader in the field of social and emotional learning (SEL), Morningside Center has developed a range of research-based programs that improve students' social and emotional intelligence—and their academic performance. Through these programs:
Students learn to resolve conflicts, stop bullying,  handle anger, embrace diversity, and take leadership to improve their communities.
Teachers receive professional development to help them teach students these skills and increase their effectiveness in the classroom. 
Principals, guidance counselors, other school staff, and parents learn strategies to help them make their school a safe, positive and productive learning environment.
Since 1982, we have helped hundreds of thousands of children and adults learn these skills and improve their schools through programs including The 4Rs (Reading, Writing, Respect & Resolution) and Resolving Conflict Creatively. Two major research studies found that both programs have a significant positive effect on students' behavior, their social and emotional competency, their academic performance, and the classroom climate
Our work, once focused only in New York City public schools, has expanded to other school districts around the country. Through exemplary school-based programs, collaborating with researchers, organizing conferences, and sharing resources on the web, we're working to make social and emotional learning a part of every child's education.
Social & Emotional Learning