To the teacher
Young people around the world went on strike on September 20, 2019, to protest the failure of their governments to fight the global climate crisis. The day-long strike was part a series of international strikes and protests between September 20 and September 27, timed to coincide with the United Nations Climate Summit on September 23. The protests took place in some 4,500 locations in 150 countries.
The student climate strike movement started in August 2018 when Greta Thunberg, then 15, began protesting alone on the streets of Stockholm, the capital of her home country, Sweden. By January, tens of thousands of students in Belgium were taking to the streets on a weekly basis to protest the lack of government action in combating the looming climate catastrophe.  Their protests inspired further action across the European continent and the world.
On September 20, students from around the globe joined the movement, skipping school to demand action to address a crisis that threatens their future. In New York alone, hundreds of thousands of young people and their allies showed up. 
For more background on the strike, see our previous lesson, Youth Lead a Climate Strike.
An additional video about the history of the climate strike, starting with Greta Thunberg's weekly protest at the Swedish houses of parliament, can be found here.
For photos and statements by young people around the world, see this collection from the Guardian.
---

Gathering
Show the picture below of the Climate Strike in New York City, featuring students from Mott Haven Community High School in the Bronx.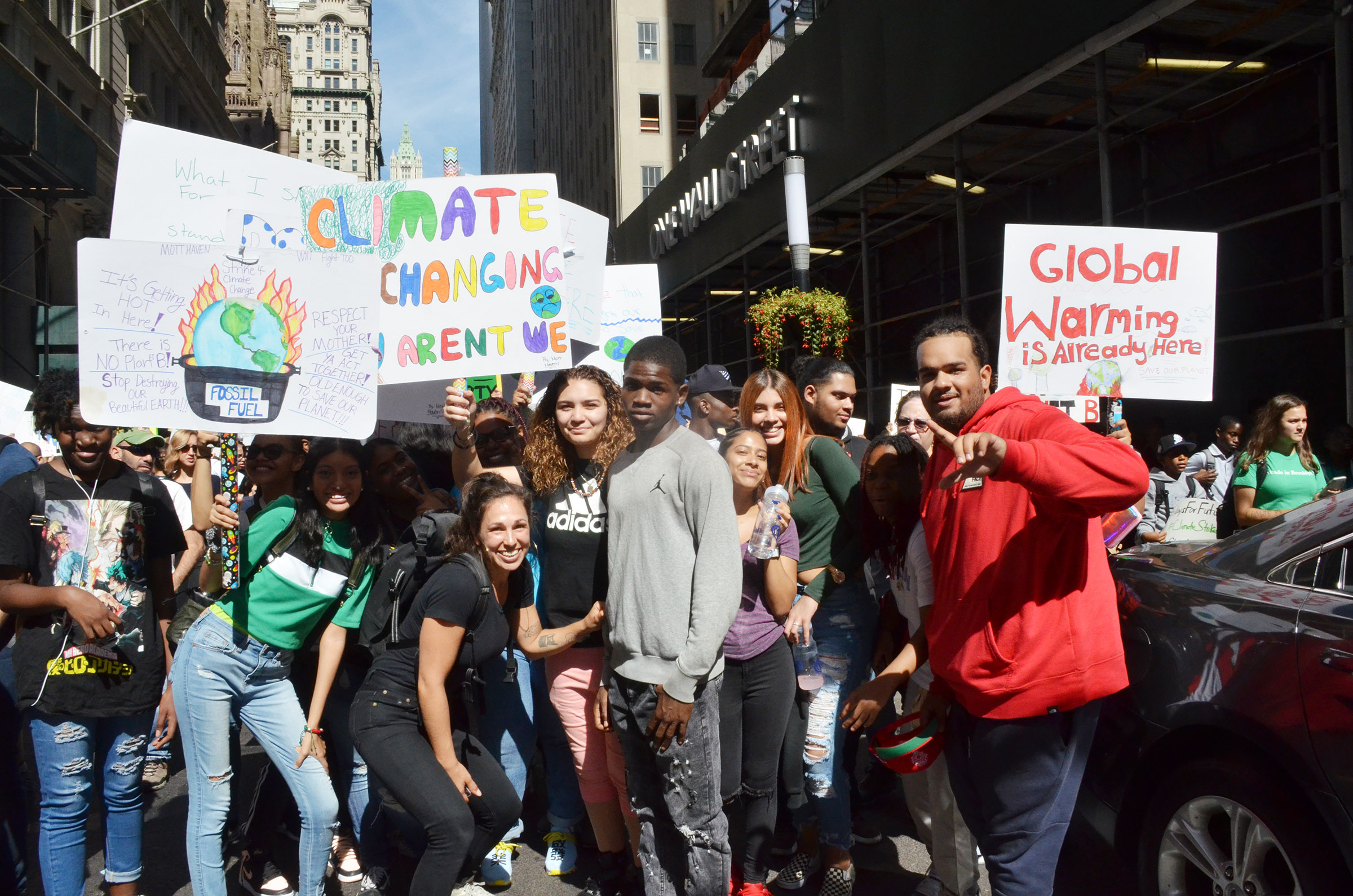 Ask students what they know about the strike that took place around the world on Friday, September 20, 2019. 
How did the strike get started? 
 
What was it about?  
Ask for a show of hands of who attended. 
If some of your students attended, ask them to describe what it was like.
If many of your students attended, ask them to share one thing that stood out to them about the strike.
 
If students don't know (much) about the strike, either share information from the "to the teacher" introduction above or show the NBC New York video Greta Thunberg, Thousands More March in NYC Climate Strike to illustrate what happened at the strike in New York City. Then ask students to share their thoughts and feelings about the video. 
---
Images and Voices from the Climate Strike

Next give students this PDF handout, which includes a set of photos of people (and their signs) at the climate strike in New York City.  Alternatively, consider placing the images around the room, using the slideshow below, or if you are seated in a circle, place them at the center of your circle for students to see.
Invite students to look at the images and discuss some or all of the following questions: 
Describe what you see in the pictures taken at the climate strike in NYC.
 
Based on these pictures, who was at the climate strike?
 
How do you think they were feeling?
 
Is there a particular image that stands out for you?  Explain why. What exactly do you see in the photo, and why does it strike you?
---

Climate Slogans from the Strike

Print up the slogans from the signs at the strike found below and in this PDF. 
Cut the slogans into individual slips of paper and put them in an envelope.  Send the envelope around the circle inviting each student to take out a slip of paper. If they're comfortable reading the slogan they picked out loud, invite them to do so. If they're not, they can put the slogan back in the envelope and pick a different slogan to read out loud.
Ask students to hold on to the slip of paper before passing the envelope to their neighbor. In this way, you'll hear a variety of slogans from the climate strike one after the other.
One planet, one chance
Will we take a different path?
We are the children of the world
Maybe people from the future haven't visited us because we don't have one
Learn to change or learn to swim
I have seen smarter cabinets at Ikea
Cuida nuestra planeta
Our parents die of age, our kids will die of climate change
We only have one home
As oceans rise so will we
Science is real
No climate apartheid
Green new deal
This is so bad, even introverts are here
Planet before profit
Corporate greed is killing the planet
There is no planet B
You can't comb over climate change
Action now or swim later
Listen to the children
This is also a march for our lives
Remember the future
Out of school à onto the street à into the polls – Climate Justice
Trees R life
Our house is on fire, act now!
Poor BIPOC* will always be hit the hardest.  *Black/indigenous, people of color
Proud grandma of a climate striker
I'm afraid of climate change, not rules
Pollution is not the solution
Stop denying, start preparing
Go green before green goes
I love our planet
Save our future
Don't frack with mother nature
Our earth, our problem
At this point my generation won't get to be the future
Every day choices have worldwide consequences
This planet cannot sustain this system
What have you 2-legged idiots done?
Use less, feel more
The climate is changing, why aren't we?

When all students have had a chance to read out loud a slogan from the strike, invite students to respond to the following questions and prompts (using a talking piece, if that is your practice):
What are your thoughts and feelings about what you just heard?
 
Do you have any questions about the slogans you just heard?
 
Which slogan stood out to you and why?
 
Share any connections, reflections and additions you'd like to make.
---
Active Hope

Joanna Macy and Chris Johnstone have been climate activists for decades.  They recognize the enormity of the challenge we face when it comes to the climate crisis and have come up with ways to address this challenge in their book Active Hope: How to Face the Mess We're in Without Going Crazy.
Invite a student to read out loud the following quote describing Active Hope (from page 3 of the book):
"Active hope is about becoming active participants in bringing about what we hope for.  Active hope is a practice… it is something we do rather than have.  It is a process we can apply to any situation and it involves three key steps. First we take a clear view of reality; second we identify what we hope for in terms of the direction we'd like things to move in or the values we'd like to see expressed; and third, we take steps to move ourselves or see our situation in that direction.  …. We focus on our intention and let that be our guide." 

Suggest to students that the millions of young people around the world who participated in the climate strike demanded that everyone, and adults in particular, must come to terms with the reality of the world we live in.  This is step one of active hope. Through the signs, presentations and performances at each strike event, strike organizers and participants elevated the reality and the challenge of the climate crisis.
There is much more each of us can do, on our own or together, to learn more about this reality. (See these TeachableMoment climate lessons for some possibilities.)
Next, invite students to think about step two of active hope: "Identify what we hope for in terms of the direction we'd like things to move in or the values we'd like to see expressed." 
Give students a few minutes to think about this. Ask them to write down on a small piece of paper or index card:
one thing they hope for when it comes to climate change; and/or  
one value they'd like to see expressed as we work to counter the climate crisis.
Next, invite students, in a dedication ceremony, to read out what is on their cards. If you're facilitating this activity using a circle format, consider having students place their cards in the center piece after reading what's on them, one after the other.
At the end of the ceremony, take a moment of silence. 
Invite students with a show of hands to let you know if they're interested in continuing to learn about, and work on, the problem of Climate Change. This can involve deepening their work on steps one and two, then continuing with step three of active hope: "taking steps to move in the direction we hope for in a way that honors the values we shared in the dedication ceremony." We can let those hopes and values be our guide. 
---
Closing Ceremony

A chant from the Climate Strike was the call and response below. Consider closing today's lesson with this call and response:
Whose Earth …

  … Our Earth

Whose Earth …

  … Our Earth

Whose Future …

  … Our Future

Whose Future …

  … Our Future