Conflict Resolution Word Find
Area:
Classroom Ideas & Resources
Topic:
Conflict Resolution/Mediation
Description:
A conflict resolution word-find game!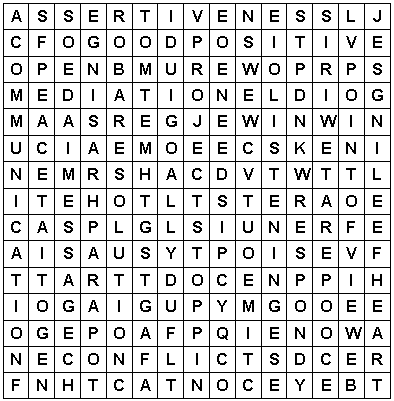 The following words can all be found in the grid above.  Words may be written backwards, forwards, up, down, or diagonally.  Circle each word on the grid when you find it.
Affirmation
Ally
Assertiveness
Communication
Conflicts
Cooperate
Eye contact
Feelings
Goal
Good
Heart
I message
Listening
Mediation
Needs
Negotiate
Open
Paraphrasing
Peace
Point of view
Poise
Positive
Power
Projects
Put-up
Resolution
Respond
Stop
Time out
Web
Win-Win
Most Popular Current Issues
Most Popular Social & Emotional Learning
TeachableMoment, a project of Morningside Center for Teaching Social Responsibility, fosters social responsibility by sharing free K-12 classroom lessons, activities and ideas with educators.