Planning for Social & Emotional Learning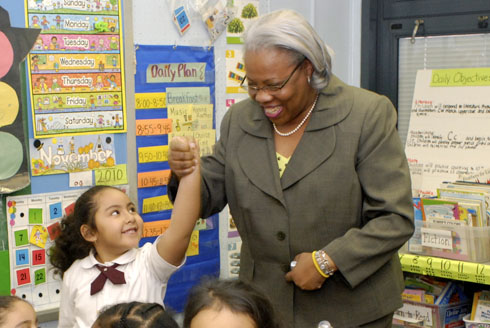 Principal Roberta Davenport  with students at PS 307, Brooklyn. 
Photo © Carolina Kroon
Research increasingly shows that creating a school-wide climate of trust and respect is essential in improving our schools. We provide tailored support for principals in leading with emotional intelligence and in engaging all members of the school community in planning for and implementing schoolwide social and emotional learning (SEL).
The project includes:
Principal Coaching. We provide focused, one-on-one support for principals to support them in leading with emotional intelligence
 
Collaborative Planning. We support the principals and a school SEL planning team as they develop a vision of SEL that is fully integrated into the school's culture; make action plans; carry them out; and evaluate progress. To guide us, we use our manual  Educating Heart and Mind: A Strategy for SchoolTransformation based on Social & Emotional Learning.
 
Building SEL Capacity School-wide. We support the school in implementing a multifaceted school-wide approach to SEL that includes consistent classroom instruction, student leadership, and SEL-oriented discipline policies. 
For more information, please contact Tom Roderick, Morningside Center's executive director, at 212.870.3318 x32 or by email.
Social & Emotional Learning