CREW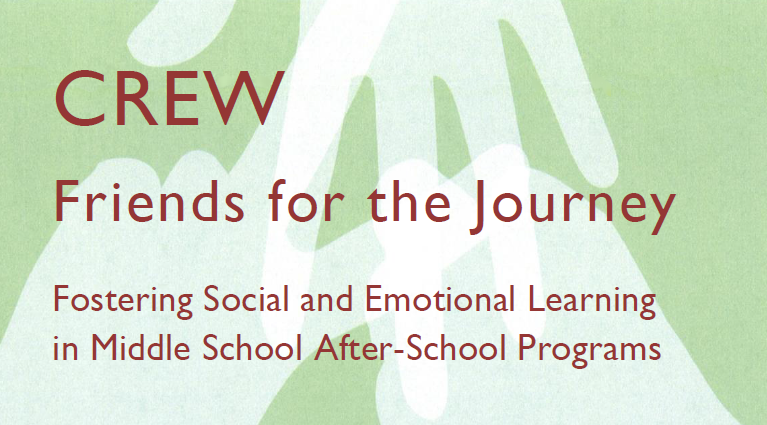 ---
CREW: Friends for the Journey offers after-school staff a powerful social and emotional learning (SEL) program for students in their middle-school expanded-day programs. CREW helps middle schoolers focus on challenging aspects of growing up. It involves students in highly interactive, age-appropriate and engaging activities, creating a safe space where young people:  
build friendships  
discuss crucial issues in their lives
develop their social and emotional strengths
have fun 
Students meet once or twice a week in groups of 10-15 with a CREW leader, an adult who facilitates sessions of 35-45 minutes based on the CREW curriculum. The curriculum adapts Morningside Center's highly regarded, research-based SEL curriculum for the after-school setting.  Students develop life-improving social and emotional skills – self-awareness and self-management, assertiveness, and problem-solving – by addressing key issues affecting middle school youth: friendship; feelings; loss; stress; culture, prejudice, and discrimination; dreaming and goal-setting; school success; adults; gender identity; and social media.
Morningside Center provides professional development for staff, including both off-site training and on-site coaching on SEL and the CREW curriculum.  
Site directors and group leaders implementing CREW report that students become more confident, mature and more respectful of one another, develop positive friendships and evidence better rapport with adults. One director reported: "Students said CREW gave them the opportunity to share, to know that someone cared. They learned it's okay to be yourself."  "One student actually said, 'We are learning life skills.'"  
 
The program currently serves staff from after-school programs run by a range of NYC nonprofits, including CAMBA, Good Shepherd, Community Counseling and Mediation, and the Greater Ridgewood Youth Council.
If you are exploring ways to bring engaging, effective SEL programming to your NYC middle-school after-school program, please contact:  Doris Lo at dlo@morningsidecenter.org or 212-870-3318 x37. 
Social & Emotional Learning