Friday, November 4, 2016 - 13:34
---
Two Naomis by Olugbemisola Rhuday-Perkovich and Audrey Vernick is a middle-grade novel (for ages 8-12) about two girls, both named Naomi, getting to know each other when their parents start dating. They're both dealing with school, friends, and the big messy changes in their lives that come with being thrown together.
There are great characters in this book, loving, flawed, and always trying to do better. We get a good look inside the heads of the two girls, and how they navigate their feelings as their parents are dating and they're suddenly put into each other's lives. The Naomis both have their lives and interests, but they manage to find ways to relate to one another, which is always easier with cookies.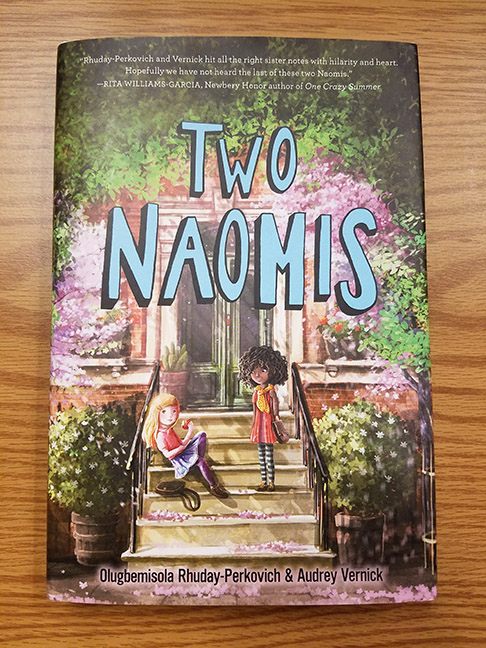 We get to see their struggle with their new situation, even though they can't always pinpoint what they're feeling or why. They get angry, they cry, their emotions get away from them, and they behave in ways they're not necessarily proud of. Then they try to do better and get to know one another, using strategies they've picked up from parents and friends. 
One of my favorite moments is when Naomi Marie's best friend Xiomara explains that she took a workshop in friendship skills and she's practicing the technique they taught her for when a "BFF is having a crisis and keeps—needs to vent.
I love that this book is packed with diverse characters without it being a focus of the story. Other high points for me were the abundance of bakery trips, Tom's attempt at cooking, and the coding class the girls take. It was fun to read and made me laugh out loud multiple times. 
 
It's a great read for everyone, but it may be particularly helpful for students dealing with new family situations at home.
 
Go check it out!